Outdoor Play
12 Ways to Jumpstart Your Summer Fun
By: Naomi Gruer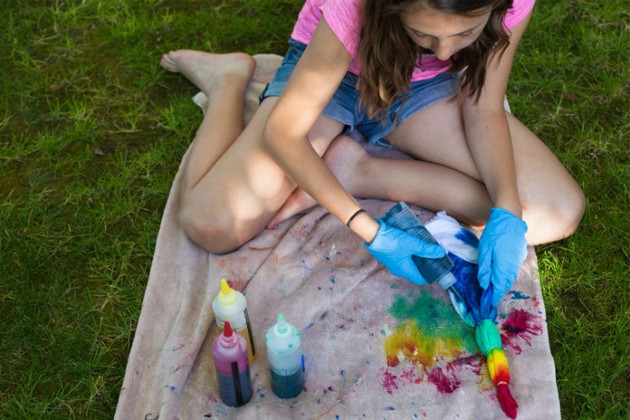 Start off summer fun strong with these cool sure-to-please summer activities.
1. Jazz up your wardrobe
Upgrade plain white T-shirts by letting your kids go wild with colorful permanent markers or fabric paint. Let older kids kick it up a notch and make tie-dye tees. Or, head to the Highlights Tee Shop to let your kids pick out some fun new tees for the summer season.
2. Bottle summer keepsakes
Fill see-through mason and mayonnaise jars with summer memorabilia, including community pool IDs, seashells, amusement-park passes and movie-ticket stubs. Personalize jars with your child's name, age, perhaps a picture or photograph and sites visited, along with the month, date and year.
3. Care for kitties
Visit an animal shelter near you and have a purr-fectly good time volunteering there. Mark your calendar to celebrate World Cat Day on August 8.
4. Go fish
Count spotted, speckled, striped and brightly colored freshwater and saltwater fish at a local pet shop—or look for schools of fish at the edge of a nearby bay, lake, stream or river. Grab library books on the way home and read fish tales at bedtime.
5. Watch a minor-league ball game
Wear team colors. Sing the national anthem. Join the seventh-inning stretch.
6. Celebrate National Play-in-the-Sand Day
That's August 11! If you're not near the beach, set up a sand table, shovels and pails for little diggers. Lay out sand-art supplies (colorful sand, bottles, and caps) for older sibs.
7. Skate off-season
Who says you can't start fall activities now? To keep costs in line, register for kiddie group skating lessons (not private instruction), or hit the ice during public sessions, when you may pay even less.
8. Host a beach party-themed barbecue 
Invite neighborhood kids to a barbecue and have participants dress up for a day at the beach.  Set up a "musical beach towels" game and serve cake pops decorated like beach balls. 
9. Try a ropes course
Let daredevils in the family don helmets, harness up and scale new heights like their favorite Ninja warriors—or ride zip lines for a thrill. For younger kids (and other earth-bound fun-seekers), grab some jump ropes. Double-dutch anyone?
10. Play ball
Reinvent games you know, including catch, whiffle ball, spud and hot potato. Use water balloons. Get drenched.
11. Know your community
Tour your town by bike or foot. Look for the largest, the smallest, the oldest and the newest houses, the most colorful garden and the widest porch. Count fire hydrants, fire trucks, and police cars. At home at night ask your child, "What do you like best about our town?"
12. Commemorate National S'Mores Day
It's on the calendar for August 10, but why wait for these chocolatey and marshmellowy treats? No need to say s'more!