Learning & School Readiness
5 Reasons Why High Five Magazine is Great for Your Preschooler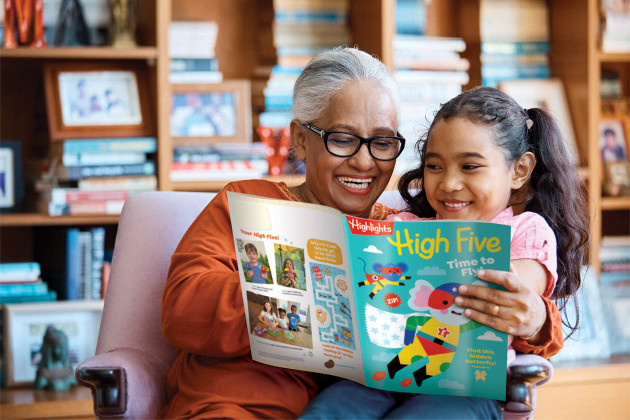 3 minutes to read
Ages 3-5
No matter where or how your child uses High Five magazine, it's all a positive literary experience. Here are 5 reasons why High Five magazine is great for your preschooler: 
1. Getting High Five magazine in the mail each month is like getting a special gift. 
Kids are thrilled not just about the new issue, but the fact that they are receiving a magazine that's just for them makes them feel so grown up. They love knowing this magazine is just for them. Beyond the mailbox moment, each issue is packed with stories and activities, poems and puzzles, all of which are intended to make your child laugh, wonder, ask and learn. This variety of content is hard to find in one place, but High Five magazine delivers it every month.
2. The content is designed solely with your child in mind. 
Stories in the magazine are designed specifically to represent preschoolers and what's going on in their world. The questions, situations and experiences in every issue are built to reflect and explore the world of a preschooler. With so much happening at this stage of development, it's important to stimulate, encourage and challenge children to help them grow to become their best selves. High Five magazine does this in a welcoming, engaging way. We showcase the joy, energy and playfulness of our young readers by using full-page art, large photos and different story-telling styles. The simple, clean look appeals to young readers while also supporting those who are just learning to read. 
No matter where or how your child uses High Five magazine, it's all a positive literary experience. 
3. The magazine introduces your preschooler to new topics, stories, characters and puzzles. 
Each issue is full of activity ideas from movement activities to recipes. It's the variety of the magazine that differentiates it from books and makes it so wonderful for preschoolers. There's always something inside to catch your child's attention. And since children are constantly growing and learning, you want something that will grow with them and be appropriately engaging and challenging.
4. Practically speaking, magazines are easy to travel with!
Keep some in the back of the car or in a backpack as you and your child go about your day. Read them together while waiting for a doctor's appointment or let your child flip through them as you drive to do errands. Because they're light and flexible, magazines are the perfect travel read.
5. Reading High Five magazine together is a perfect bonding moment for you and your child, something your child will look forward to.
You can best use the magazine with your child by taking a few minutes to look at it together when it first arrives in the mail, then following your child's lead. Does your child flip through the pages back to front? That's fine! Maybe they go straight for the puzzles, that's okay, too! You might read one poem and do one puzzle when the magazine first arrives and that's all. But your child knows there's more to explore and will probably want to pick it up the next day or next week, and review the same content again -- or perhaps focus on different features. 
After a few issues, your child will likely be eager to spend more time with the magazine as they'll know what to expect, have characters they look forward to seeing and have favorite pages and features.
Ready to start your High Five subscription? Click here to get started!