Social & Emotional Development
7 Cool Ideas for Father's Day Weekend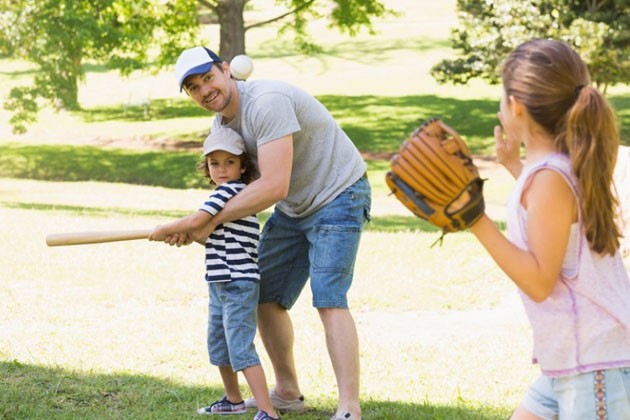 3 minutes to read
Ages 3+
Father's Day is the perfect holiday to spoil the amazing dads and father figures in our kids' lives. Instead of just wrapping up a few gifts, why not plan a day full of activities that Dad and the kids will love? From whipping up sweet treats to spending plenty of time outdoors, let's show the dads in our lives how much we appreciate them with these seven Father's Day activities:
Make matching shirts
They want to be just like Dad when they grow up — so, on Father's Day, let the kids match Dad's style by creating DIY matching shirts. Grab a tie-dye [CB2] kit from the craft store and a few cotton T-shirts, then send the kids and Dad outside to make their masterpieces. After a quick tie-dye session, toss the shirts in the dryer so kids and Dad can proudly show off their matching creations for the rest of the day. 
Go camping in the backyard
How about a Father's Day campout in your own backyard? Pitch a tent and have Dad start a fire or use an outdoor stove to make s'mores. Whether you do this during the day or at night, this moment will be even sweeter by having everyone say their favorite things about Dad while you all enjoy the great outdoors from your backyard.
Play a baseball game 
Grab your bat, trusty mitt and kid-safe softballs or whiffle balls. Head for the local baseball field (if your town has one). If not, a backyard lawn or a driveway will do. The coach, aka Dad, can demo how to throw and catch a ball and how to find the sweet spot on the bat. Later on, serve up pizza, hot dogs and other well-deserved snacks for the team. 
Plant Father's Day veggies
Surprise Dad with his very own vegetable garden for Father's Day. As a group, decide which seeds to buy, outline a patch of land and till the soil prior to planting. Big kids can handle shovels; little ones can use spades. Arrange tomatoes, cucumbers and herbs — or whatever Dad likes best. Label the patch of land "Dad's Father's Day Garden."
Celebrate on the water
From renting kayaks or canoes to spending a day filled with swimming or fishing, treat Dad to an adventure on the water. If he wants to relax, give him his own raft so he can float and chill while the kids play. Pack lunch and some sunscreen for this Father's Day activity.
Partner up for his favorite hobby
Does Dad love to play golf? Plan a few rounds of mini golf for the family. If Dad is handy, get the supplies to build a birdhouse so Dad and his team can make it together. For the fitness-obsessed Dad, get everyone out the door and on a hike. Is Dad a gamer? Break out the controllers and let the kids challenge Dad to their favorite games. 
Plan a movie night with Dad
Wrap up Father's Day by letting Dad pick the movie — a family-friendly one, of course. Everyone can snuggle up on the couch when it is movie time but be sure to get Dad a Father's Day treat before you get comfortable. Here is an easy and delicious one: Sprinkle his favorite candy on top of his popcorn. Since Dad is so good at sharing, we know he will offer up some of his treats to everyone in the snuggle pile.