Arts & Crafts
Felt and Paper Pumpkin Craft
By: Highlights Editorial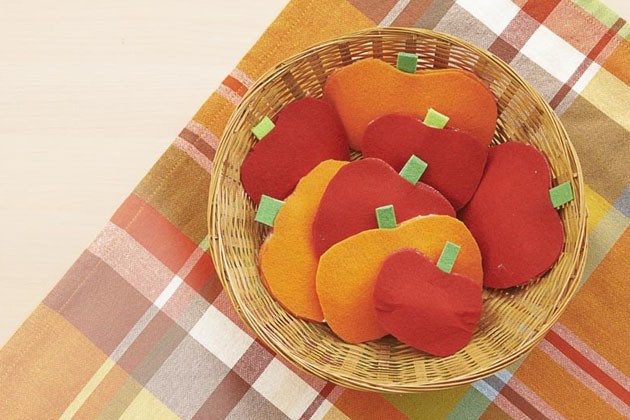 It's the time of year to break out pumpkin crafts! This felt pumpkin craft will put your kids' scissor skills to work. You'll have fun together this fall making these adorable (and easy!) cotton-stuffed apples and pumpkins. Learn how to make this pumpkin craft with your kids.
What You'll Need
What to Do
Draw a pumpkin shape and an apple shape on paper. Cut out the shapes.

Use a pencil to trace the apple and pumpkin shapes on the paper side of the adhesive-backed felt. Trace two shapes for every one piece of fruit.

Cut out the felt apples and pumpkins.

Cut a rectangle from the green felt. Remove the paper and fold the felt in half to make a stem.

Peel the paper off one fruit shape. Place one or two cotton balls in the center of the sticky side. Add the green stem at the top.

Remove the paper back from the other shape. Place the sticky side on top of the cotton balls, and press the edges of the felt together.
Extend the Fun 
For younger kids: Make a miniature farm stand from an empty cracker box; glue four spools of thread underneath as legs. Cut out dollhouse-size apples and pumpkins, and other fall fruits, to populate your stand, stuffing them with cotton wisps instead of cotton balls. Write prices (Apples 5 cents, Pumpkins 25 cents) on tiny pieces of paper taped to toothpicks; set them among the bounty. Cupcake liners (mini-muffin size) can serve as bushel baskets.
For older kids: Make enough apples and pumpkins for everyone in your classroom, place-of-worship group or sports team. In your fanciest script, write a name on each one. Use them as party favors or place cards at your next get-togeth