Cultural Understanding
How Do You Celebrate: Diwali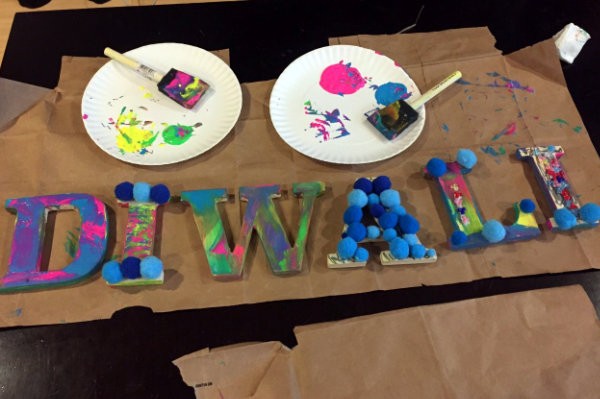 6 minutes to read
Ages 3+
Diwali is the holiday that feels like it belongs to me. "My Diwali Light" tells the story of Devi, named after my grandmother, as she gets ready to celebrate Diwali her way. Like so many major holidays, different families and communities have their own way of marking the season. Growing up in an immigrant Sindhi household in New Jersey, our celebration looked different than many of our friends. I made sure to include the Diwali detail that always stands out for me: the jingling of the coins during puja, or worship. My grandmother told me we jingle the coins loudly so Laxmi, the Goddess we honor during Diwali, showers our home with health and wealth.
I hear my Grandmother Devi's voice throughout this story. And now that I have a family of my own, my daughter Satya and I have started our own Diwali tradition: a huge party where we cram as many people as possible into our apartment for food, dancing and lots of laughs. I love celebrating Diwali, but what I love most is sharing Diwali with our friends, bringing them into our world, our apartment and our culture. I love making it our own, creating new traditions, while also honoring the ones that have been passed down to us by our ancestors. I love knowing that all the Diwali light and sparkle isn't gone when the holiday is over: it's in the truth, kindness and empathy we carry within us all year round. I think what I love most is imagining how all of our inner lights, yours and mine, can brighten the darkest corners of the world and the gloomiest of days. 
I hope when you read "My Diwali Light," about a time of year that is both sacred and joyous for my family and me, it sparks conversations about holidays that you celebrate and why they matter to you.  
Tell us more about the history of Diwali.
When I was a kid, my family used to participate in annual Diwali shows, our community used to organize at local schools or community centers. We would perform scenes from The Ramayana, an Indian epic that tells the story of Ram, Laxman and Sita. Towards the end of the epic, the trio return after 14 years in the forest, back to their hometown, and are welcomed with a sea of diyas, or clay lanterns, the citizens of the city had lit and left out to be sure they could find their way home. The Ramayana tells the story of the triumph of good over evil, but it's the power of the lights that always stuck with me. I see myself, and all of us, like those lights, the ability to fight off darkness, right inside all of us. Different communities in India celebrate Diwali in their own ways, but for my family, the Diwali season meant our annual Diwali shows, with months of rehearsals with friends and cousins, Diwali dinners with family and friends and Diwali puja, or prayers, at my father's office and at home. 
Image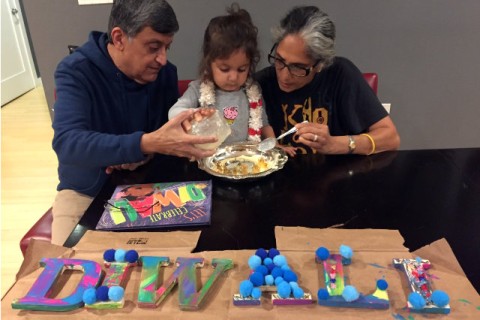 "What makes Diwali special to me isn't celebrating exactly as my ancestors or parents did, but making it my own, creating new traditions and ways of marking the festival that feels like they belong to us."
What are your favorite memories of Diwali as a child?
The Diwali shows were my favorite memories of Diwali because they brought our community together. Groups would get together and practice different performances: there were the parts of the Indian epics The Ramayana and The Mahabharata that we perfected, other times we did Bollywood songs and dances. I love how much time we all got to spend together during these practices. I formed some of my closest and dearest friendships at Diwali show practices while also learning about my Indian culture and heritage. I also really loved going to my father's office for the annual Diwali puja. It was so exciting to go to New York City, dressed up in beautiful Indian clothes, to mark our special holiday.
Image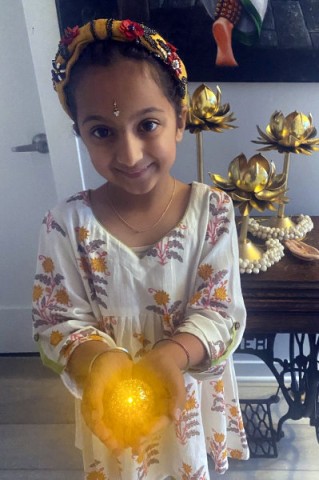 What is the most meaningful Diwali tradition that your family observes?
My daughter Satya and I celebrate Diwali each year with an annual Diwali party, the inspiration for my new book, "My Diwali Light." We invite all our friends, community members and cousins to our apartment for food, music and special Diwali themed crafts. We decorate the apartment with so much excitement: twinkling lights, marigold garlands, lanterns and diyas fill the space, creating a warm, festive atmosphere, perfect for celebrating our favorite holiday. We serve our favorite Indian foods - chaat, samosas, paneer and so many mithai, or sweets. We love getting everyone together and we love sharing our Diwali celebration with everyone we love. We also give each other Diwali gifts and wear new clothes on Diwali; choosing our Diwali outfits is also a fun part of the celebrations. 
Image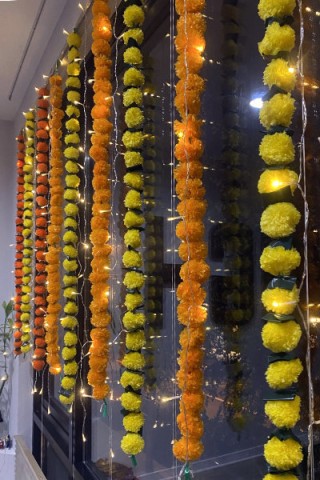 Tell us about your Diwali celebration and preparations. 
Our Diwali decorations are no joke! I start decorating our apartment a month before Diwali so we can enjoy the lights and beautiful Indian decor for the season. (Sometimes I leave the decorations up longer than I should because I love them so much!) I find that creating a festive space puts us all in a festive mood. I also think that celebrating so fully, with friends, decorations and parties, helps us to share Diwali with our friends, something we really value. The decorations all have their own stories: some are new from India, others from my parents' house, familiar items from my own childhood. My love for Diwali has spread, so family members have sent me special items, my parents have brought back beautiful garlands from India, and my decor boxes do seem to multiply each year, but I'm not complaining. I love making Diwali a season in our home that can be enjoyed by all our senses by as many people as possible.
Image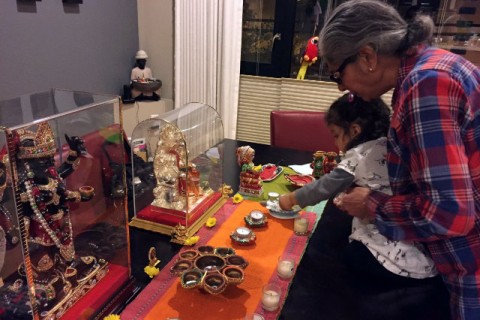 What would you like other families to know about Diwali?
I would like families to know that Diwali is celebrated in different communities, across various religions, by billions of people in India and across the world. But what makes it special to me isn't celebrating exactly as my ancestors or parents did, but making it my own, creating new traditions and ways of marking the festival that feels like they belong to us. For me, Diwali is a time of reconnection and rejuvenation, a time to recommit to things that mean something to me and to remind myself that my inner light, and yours, is fiery, bright enough to light up our communities and the darkest corner of the world. Happy Diwali! 
In our "How Do You Celebrate?" series, we celebrate diverse cultures and religions through recipe and craft content. We share how families honor their religious and cultural traditions. 
Image