Social & Emotional Development
20 Products to Set Your Homeschool Up for Success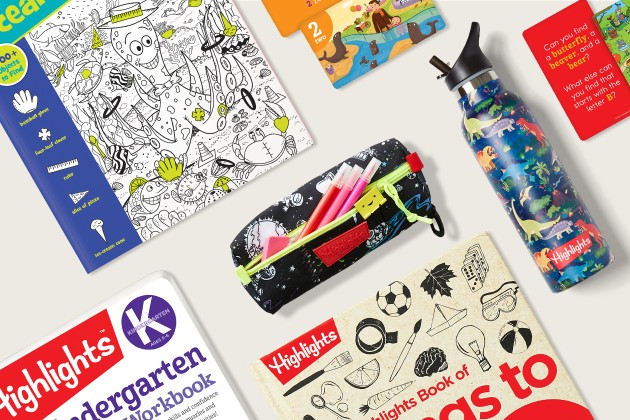 7 minutes to read
Ages 3+
Whether going off to school for the first time or starting another year, experts agree that a child who feels capable and secure is set up for school success. 
To help your child feel competent and confident, we have homeschool products and tips to help you and your youngster get ready for the year ahead—feeling good and ready to learn! 
In the days and weeks leading up to the first day of school, build the momentum for learning: 
Encourage your child to select their homeschool workspace belongings and decorate them to reflect their personality. Pride of ownership—and the desire for self-expression—goes a long way! 
Let your child help plan, shop for, prepare and pack snacks and lunches. This teaches responsibility and sends the message that even small stuff takes time and planning. 
To ignite imagination, boost vocabulary, nurture communication skills and build character, provide more than just "stuff" to read. 
Leave different types of books around your home for your child to find and wander through at their leisure. 
In the car, try travel games. Look for books with entrancing illustrations that will keep your child from begging for your phone. 
Place a favorite childhood book of yours on a living room table. When you "catch" your curious reader picking it up, share memories of reading. Repeat often. 
Stack joke books in the bathroom and turn those "lost" moments into pure delight. 
Homeschooling workspaces are different and unique to every child and family. Once you've purchased homeschool essentials such as a desk or workspace table, good lighting, dry erase boards, school supplies and a subscription to Highlights Magazine, here are a few Highlights products that will bring fun with a purpose to any homeschool classroom! 
Homeschool Teaching Materials 
This kit is the ultimate in fun for a kid who enjoys all ways of being creative or for sharing among kids with different interests! It includes both our Highlights Book of Things to Write and Highlights Book of Things to Draw gift sets, plus bonus items! 
Here's the ultimate assortment for when the kids are looking for something creative to do on a family game night, rainy day, unexpected snow day or ALL of summer vacation. 
Have lots of undersea-themed fun with Hidden Pictures Ocean Puzzles! From scenes of a fishy luau to a starfish-led marching band, there's whimsical amusement for every interest. And more than 1,900 hidden objects to find means hours and hours of entertainment for young and old. 
First Day of School Gear 
Your kids will do remarkable things this year in school — so should their tees! With color-changing shirts made for the playground and glitter shirts that celebrate self-expression, our kids graphic tees let their light shine even brighter. 
From your homeschool classroom to game day and every adventure in between, your explorer will love this Jurassic-ly awesome dinosaur water bottle with flip-top straw! The leak-proof lid makes this water bottle dino-mite for backpacks, pool-side totes and even nightstands. 
When your cosmic explorer is in action, this easy-to-carry glow-in-the-dark galaxy pencil case holds all the tools they will need for their imaginative adventures! This sturdy, durable material withstands zip after unzip when your kid needs handy supplies on the go. 
Subscription Boxes for Your Homeschool Classroom 
Research shows that it takes as little as 15 minutes of practice for a child to get the most out of a learning activity. Each standards-aligned School Success box includes an award-winning blend of skills practice and Highlights puzzles that make learning enjoyable and fun – all designed to use in quick 15-minute bursts that easily fit into your day! 
With kid-friendly directions and built-in motivators like stickers and certificates, School Success boxes let kids lead the way in their learning, taking the stress off both adults and kids. But you won't need to ask twice for your child to practice. The preschool, kindergarten and first grade puzzles and activities are so engaging, kids will come back for more fun and learning, again and again! 
Workbooks Kids Will Love 
Want to make kindergarten learning enjoyable for your child? Let Big Fun Kindergarten Workbook help. It's an award-winning kids' activity book unlike any other, that combines imaginative puzzles, humorous poems and whimsical illustrations with traditional workbook practice activities. 
The schoolwork that kids will WANT to do! The award-winning Big Fun First Grade Workbook presents a unique approach to first-grade learning that blends puzzles and lessons in one fun activity book. 
The award-winning Big Fun Second Grade Workbook helps kids learn in a way that's fun, by blending lessons with puzzles. They will love the kid-friendly art and giggle-inducing humor, so they will stay engaged longer, building persistence and attention to detail. 
Classroom Essentials 
This colorful map with illustrations of state landmarks, famous residents and local activities is geographically accurate and marked with state capitals, major highways, rivers and mountain ranges. 
Highlights Puzzle Flash Cards: Alphabet and Numbers (Pre-K) 
Brand-new kids flash cards from Highlights make it fun for preschoolers and kindergartners to learn letters and numbers. We combined our signature Hidden Pictures scenes and other puzzles with alphabet and numbers practice for learning that kids will love. 
Cursive writing is an important skill that may or may not be taught in your homeschool, and this pack gives kids all the practice they need! Developed with the handwriting experts at Zaner-Bloser, the leader in teaching kids to write for more than 125 years, both books in this set include easy instructions and QR codes that link to animated handwriting tutorials. 
The 2024 Almanac of Fun Calendar is a companion to our popular Almanac of Fun. It puts all those fun celebrations, wacky holidays, facts, recipes and more on the wall, where you will see them every day. In this kids' calendar, you will find things like a craft for National Bird Feeding Month in February, a note about Chihuahua Appreciation Day in May and a recipe for tropical fruits in December. 
Deluxe School Success Pack- Preschool 
Make the most of your child's precious first school experiences with the School Success Pack for Preschool. Highlights blends age-appropriate skills practice with our famous puzzles and humorous touches (like jokes and illustrations) to help engage kids and make learning fun. When this kind of practice doesn't seem like work, kids are excited and more willing to learn. 
Highlights Activity Flash Cards: Silly Sight Words and Addition Subtraction Sets 
First and second graders will love practicing school skills with these fun and colorful flash cards from Highlights. Each 48-card set features full-color art that will appeal to any kid. 
Write-On Wipe-Off ABC Tracing Adventure 
Kids will love learning to write letters with Write-On Wipe-Off ABC Tracing Adventure. It comes with 8 double-sided dry-erase boards that have a playful activity on each side, plus red and black markers and an eraser cloth.