Social & Emotional Development
21 Easy Community Service Ideas for Kids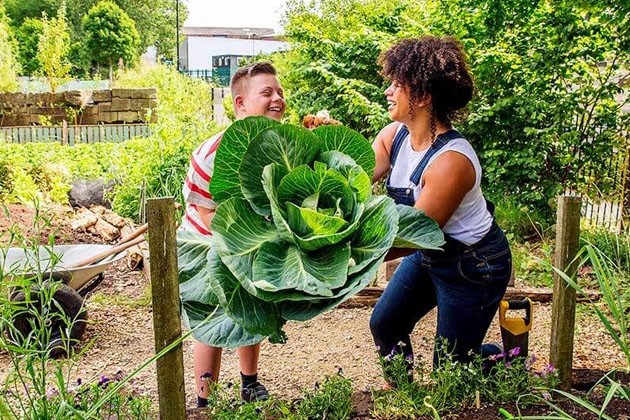 2 minutes to read
Ages 6+
Would you like your future citizens of the world to serve their community, do good deeds and feel compassion for others? Here are 21 community service ideas to help kids learn how to give back. Give these child-tested philanthropic activities a try. 
At home
1. Save spare change throughout the year. In December, donate the money to charity.
2. Drop off gift cards for first responders or front-line workers.
3. Offer extra veggies from your garden to the local food bank.
4. Collect old eyeglasses for organizations that recycle and distribute them.
5. Make personal-care kits for the houseless in your community. Fill them with filled with soap, shampoo, toothpaste, a comb, a brush, socks and other everyday essentials.
In the neighborhood
6. Rake leaves, shovel snow or carry packages for a neighbor.
7. Bake cookies for a neighbor who is recovering from an illness.
8. Host storytime on your porch and read poems and board books to younger children.
9. Donate gently used toys to local charities.
10. Walk a dog for a busy neighbor.
11. Plant flowers and veggies in a community garden.
12. Adopt a street. Keep it litter-free and beautiful.
13. Share a talent (music, dance, etc.) with neighborhood kids or the elderly. Be a positive role model for other children.
At school
14. Be a friend to someone who needs a pal to talk to.
15. Shelve books at the school library.
In the community
16. Volunteer at an animal shelter.
17. Host a neighborhood food drive and donate proceeds to your local food pantry.
18. Collect gently used soccer balls, baseballs, softballs, bats and cleats for groups that need them.
19. Lend a hand at a fundraiser to promote community spirit.
In the world
20. Send holiday cards to the servicemen and servicewomen who protect our country.
21. Practice random acts of kindness often.
Our award-winning magazines for kids deliver a monthly dose of encouragement, keeping kids of every age inspired and challenged. Children's magazines are great for helping them learn and grow, and kids magazines from Highlights are there for you.