Arts & Crafts
DIY Hidden Treasure Map for Kids
By: Highlights Editorial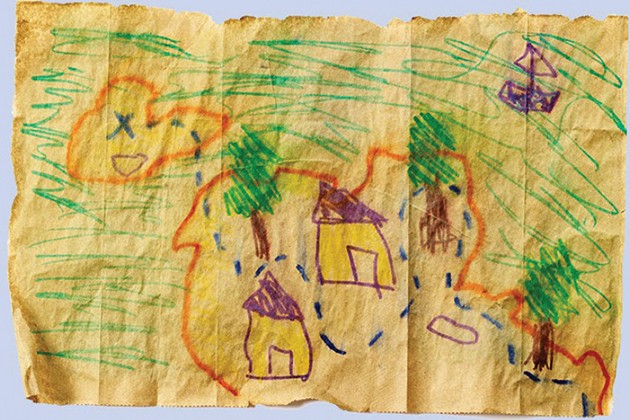 Ahoy, buccaneers! Send your kids on an imaginary journey to find a hidden treasure. Have them envision the trip and that final reward. Draw it on paper. They'll think it's fun to be in charge of a mystery!
What You'll Need
What to Do
Tear off the bottom of a paper bag and cut a side seam to fully open the bag.

Crumple the paper. Then flatten it out.

Use markers to draw a map of your imaginary journey.

Draw an X on one part of the map where the treasure is hidden. Draw a path to the X.

Paint the map with water, spreading the colors. Let dry.

On the back of the map, draw a picture of the secret treasure hidden at the X.
Extend the Fun
For younger kids: Make the treasure hunt a reality, in the house or a small area of the backyard. You draw the map, hide a prize and send your child on a journey to find it, using the visual clues on the map.
For older kids: Think big! Imagine a favorite destination—somewhere you've been before, or a place you dream of visiting. How would you get there? Airplane, car, spaceship? Use a map or an atlas to help you plot your course on a paper-bag map.
Just as fun as you remember, our Hidden Pictures puzzles boost attention to detail, concentration and creative problem-solving, too. Let kids tap into their curiosity and see the world in a whole new way with Highlights Hidden Pictures activities.