Learning & School Readiness
4 Kindergarten Readiness Skills Your Child Needs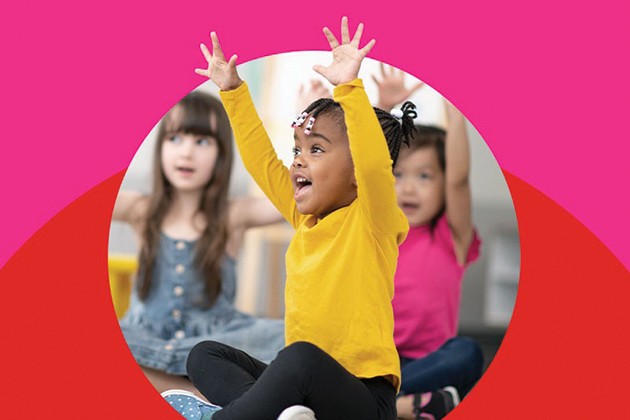 6 minutes to read
Ages 3-5
The word on the street for many parents of school-aged kids is that kindergarten is the new first grade. It's no secret that kindergarten today is much more academically rigorous than kindergarten used to be, with less play and longer hours. Given that, parents are feeling the pressure to prepare their child for the beginning of a formalized classroom education. Even for children who have been in preschool or childcare, the transition to kindergarten is a big one.
With today's kindergarten looking very different than what we remember, parents may be wondering, "Is my child ready for kindergarten?" When asking this question, it's important for parents to think of the whole child—the child's academic readiness and their social and emotional readiness. Because children develop at different rates, there isn't a specific formula or a formalized kindergarten readiness checklist to provide a concrete answer for all parents. However, understanding what skills young kids need to have to be ready for kindergarten can help you assess what's best for your little one.
Here are the 4 kindergarten readiness skills to focus on as you work with your child. Don't be too concerned if your child doesn't have them all down before kindergarten starts, because the skills listed below will be worked on throughout their kindergarten year.
Assess their self-help skills. 
To help judge if your child is ready for kindergarten learning, Highlights' early childhood education editor Julie Stan recommends focusing on kids' self-help skills. "Get your child comfortable asking for help from an adult," Stan says. Parents can look to assess this by thinking through the following questions:
Is your child confident?
Does your child feel comfortable with other kids?
Can your child handle separation?
Can your child follow instructions?
Is your child able to share?
Does your child develop friendships?
Can your child communicate their needs to adults?
Do they know how to name their feelings?
Do they know how to speak up if they don't want something or to do something?
Can they complete a task that was asked of them, even if they don't want to?
Although these are relative skills, they are key in helping assess a child's social-emotional readiness for kindergarten. Parents can help their child practice these skills by giving them right-sized responsibilities at home, such as:
Giving your child opportunities to interact with other kids.
Teaching your child how to express their feelings.
Role-playing situations to provide solutions for problems.
Letting your little one clean up after themselves.
Encouraging them to take charge of a chore of their choosing.
Asking them how they are feeling and listening when they tell you.
Assess their hands-on learning. 
Kindergarten is where children begin to learn how to read and write. Kids in kindergarten practice a lot of hands-on learning. To best prepare them for that, as well as sharpen their motor skills, it's a good idea to help get them in the practice with paper-and-pencil activities. Highlights' Big Kindergarten Workbook will make learning practice enjoyable for your child, while also fostering curiosity and creative thinking.
It's also good to prepare your early learner by encouraging curiosity in the world around them. Take walks and talk with your child about what they see. "Look at rocks, observe clouds," says Stan. "Taking the time to let children enjoy the wonder of the world around them, and ask questions about it, will be a great preparation for kindergarten."
Assess their reading readiness. 
While some parents think they need to send their child to school already knowing how to read, this certainly is not a requirement. Stan says, "A love of reading goes a long way." In early childhood, the focus is on the story. Kids who are engaged in frequent conversation, who listen to and tell stories and who read with adults have larger vocabularies and stronger language comprehension skills. Parents can practice these skills with their child by:
Helping your child practice letters, shapes and colors
Helping your child practice cutting for upcoming classroom projects
Pointing out numbers to help your child with number recognition
Playing games to help your child recognize the alphabet with books like ABC Puzzles
Reading books with your child
Establish at-home routines. 
Routines help children feel safe and foster their self-confidence and sense of belonging to their family. Kindergarten is also all about routines. Parents can help establish routines for their kids before kindergarten by focusing on creating 3 separate routines:
To truly foster a love of reading, it's important for parents to read to their child for at least 20 minutes every day. This helps build attention skills and language and literacy skills. A great way to increase their engagement with this activity is to allow them to pick out a book for you to read.
Not only does having family dinners together provide a sense of belonging for the child, but it is also an opportunity to teach them about healthy eating habits. Mealtimes are great opportunities to work on language skills, but they also strengthen a child's bond with their caretaker, guardian or parent.
Bedtime routines help ensure that children are well-rested for the next day's adventures. Some important parts of a bedtime routine include maintaining a consistent bedtime and a predictable set of activities that lead up to bedtime. Not only will this help kids get used to routines, but it will also ensure they are well-rested come the first day of school. 
Parents can get into the habit of playing "school" at home by practicing with fun activities like those found in Highlights' Kindergarten School Success Pack. The more familiar a child is with the types of activities they will do at school, the more confidence they will have.
Bottom Line
Overall, when you're assessing, "Is my child ready for kindergarten?", the key components to consider are:
What are their social skills like?
Can they ask for help from an adult?
Are they able to communicate their needs?
Do they have a love of reading?
Do they have curiosity about the world?
What are their motor skills like?
Are they familiar with routines?
Keep in mind, every child is different, and the people who love and know a child best are the best people to decide when they are ready to take the leap into school. "Everybody's 'ready' will look different," says Stan. "While there are child development milestones that typical kids have, some kids will never hit some of them. And that's okay. Schools are here to support children at a variety of developmental levels and with different strengths and needs."
Kindergarten is an exciting time for young kids, ages 4–6. There is a lot of learning, play and growth that happens in kindergarten to help prepare the little ones of tomorrow to be successful in elementary school. When you're preparing for kindergarten, remember that we all learn at different speeds, and at the end of the day, the decision should be based on if your child is truly ready to take their first step into education. 
Make learning playful for little ones getting ready for kindergarten! They'll develop concentration and practice following directions, while learning grade-appropriate sight words, writing and math skills. Shop now for kindergarten readiness!