Learning & School Readiness
6 Educational Toys for Infants and Toddlers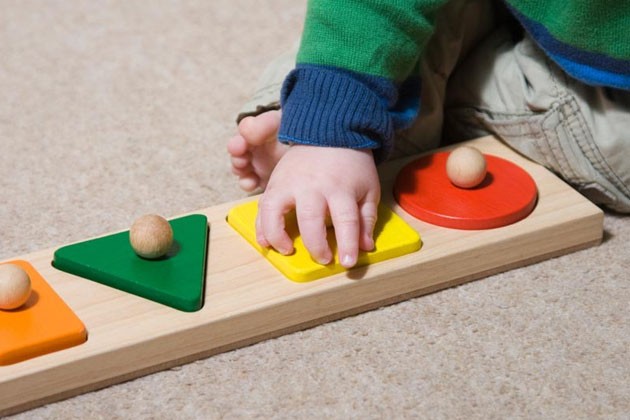 3 minutes to read
Ages 0-5
Hot toys come and go, but classics like the 6 listed here will never slip out of fashion. We scouted the shelves for the best of the best to create this timeless list of must-have developmental toys for curious babies and educational toys for toddlers. 
Classic blocks
Why:
Baby can bang them together, drop them into a bucket and eventually learn to stack them. Blocks are great educational toys for toddlers as the blocks help hone kids' motor skills and are ideal for free play.
Look for:
Traditional wood blocks with carved-out letters, numbers and even animals.
To boost learning:
Point to the letters, numbers and animals on the blocks and name them. If your child repeats what you say, or even if it isn't perfect, they're learning. Later, use the blocks to cultivate an interest in simple number and letter activities (like the ABC song), or to teach word formation and simple addition.
Shape sorter
Why: 
It's a great tool to help little mathematicians learn about geometric shapes, including circles, squares and triangles.
Look for:
Opportunities to boost their learning curve. Cut out the above shapes from construction paper or card stock and encourage your child to match pieces by shape and color.
Boost learning:
Let them pair your homemade red triangle with the store-bought blue one, or your yellow circle with the ready-made green one.
Faux instruments
Why:
Tots love to make music.
Look for:
Drums, xylophones or a mini keyboard. Your child will hear notes and learn about cause and effect by pounding out sounds on any one of them.
Boost learning:
Haul out a favorite playlist—one of yours or theirs—and let them freestyle. They can bang out a tune while experimenting with rhythm.
Push toys
Why:
What's cuter that a toddler pushing a kid-size vacuum, market basket or lawn mower?
Look for:
A safe place for your tot to work on large motor skills, balance and hand-eye coordination while they shop or clean house. (Remember to remove chairs and other obstacles.)
Boost learning:
Play "let's pretend" with your kid and name everything—the white chair, the gray sofa, the red apple, the box of cereal, even the yellow and orange flowers in the vase on the table.
Nesting or stacking toys
Why:
They're awesome.
Look for:
Anything that brings them joy—a traditional set of stacking or nesting pieces—or one you make yourself from a handful of kid-size cups in a rainbow of colors, courtesy of your kitchen cabinet.
Boost learning:
Place the cups upside down and let them do their thing—or coach them. Then place some cups up and others down and encourage your child to exercise their fine motor and thinking skills and, of course, use their own rapidly expanding imagination to find new ways to play with them.
Books and magazines
Why:
Talking, reading and singing are the basis of literacy.
Look for:
Colorful images, whimsical read-aloud stories, poems and simple activities – like those in Hello magazine -- that make babies giggle, laugh and learn.
Boost learning:
Encourage your little one to interact with her reading materials, touching, manipulating, pointing and talking with you about the images on the page.