Cultural Understanding
How Do You Celebrate: Day of The Dead (Dia de los Muertos)
5 minutes to read
Ages 3+
I was born and raised in Mexico City and ironically, as soon as I left my country 17 years ago, I started paying more attention to how I celebrate my Mexican traditions, like Day of The Dead, and magically they got a whole new and powerful meaning.  
I've always tried to visit my family back in Mexico as often as possible, but I soon realized it was never enough. That's why embracing my Mexican traditions to their fullest in the U.S. became my coping mechanism to try to bring my home country closer and yearn for my family a little bit less.  
When my kids were born, those Mexican traditions intensified even more in my ambitious quest to raise not only bilingual kids, but bicultural children as well. Surprisingly, out of all our many traditions, the Day of the Dead became our household favorite. You might think that talking to my kids about death might be challenging, but thanks to this beautiful and colorful tradition, I was able to teach them how to cope and honor our loved ones that are no longer with us.   
Tell us more about the history of Día de los Muertos/Day of The Dead. 
El Día de Los Muertos is a two-day celebration on Nov 1st and 2nd where families gather to pay respects and remember their loved ones who are no longer with them but in a joyful and super colorful way filled with food, music, laughter, and fun stories about them.  
Image
Families typically create altars or ofrendas at their homes or even at their loved one's graves with their photos, favorite foods, beverages, and even beloved objects they used.  
These altars are decorated in a very colorful way and every single object has a meaning. For example, we typically use a beautiful orange flower called Flor de Cempazuchitl or marigold to guide the souls of our loved ones to our ofrenda. 
There's a Mexican phrase that says that people die when they are no longer remembered. Day of The Dead is a beautiful tradition to keep our loved ones alive for generations to come.
What are your favorite memories of your celebrations of Día de los Muertos? 
One of my favorite memories about this celebration is when my high school sweetheart, now my husband, proposed to me in Oaxaca, México during a Día de Los Muertos vacation weekend. That morning we hiked up to Monte Alban, one of the pyramids on the city outskirts, where he proposed on the very top. Then we came back to the city to celebrate with our friends.  
There are no words to describe how the city of Oaxaca transforms into an all-day, all-night colorful festivity every year during those couple of days. It was such a magical moment where we felt the whole city was celebrating with us with people dancing on the paved streets, colorful marigold flowers everywhere, and delicious food, of course. A day I will never forget.  
We were lucky enough to go back to that same spot on our wedding anniversary, 15 years later with our three kids and it was still magical.  
What is the most meaningful Día de los Muertos tradition that your family observes? 
What makes this tradition very special is that every household in my family makes its own Ofrenda or Altar at their homes using photos of their loved ones and things and food they used to love. Every year is so much fun to share everyone's photos, no matter what part of the world we live in and see how every single one has its own character and personality.  
Image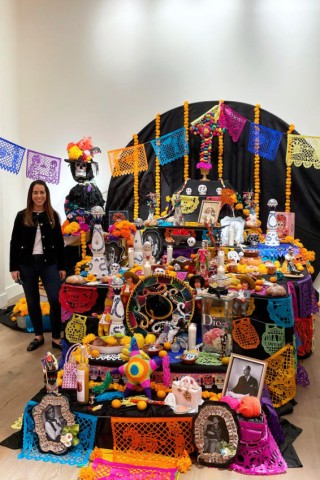 Tell us about your Día de los Muertos/Day of The Dead celebration and preparations. 
Every single item on an altar has a powerful meaning and a reason to be displayed, for example, the colorful paper squares called Papel Picado is tissue paper of multiple colors with cut-out shapes that symbolize the union between life and death.  
Food is also a monumental part of this celebration, and a Día de Muertos is never complete without enjoying Pan de Muerto or Bread of the Dead. This traditional sweet bread has a delicious aroma of anise seed and orange zest and is decorated with little "skeleton bones" and sugar sprinkled all around. It's accompanied by hot Mexican chocolate and it's to die for, pun intended.  
Image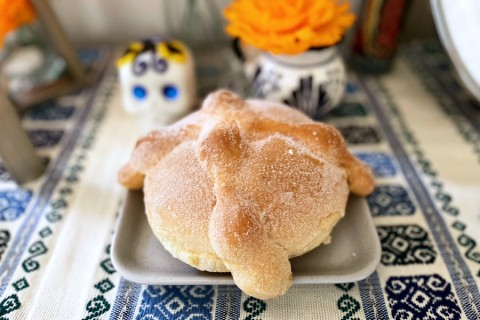 There are many Mexican bakeries around the U.S. where you can find this delicious bread and all the decorations you may need.  
What would you like other families to know about Day of The Dead? 
There's a Mexican phrase that says that people die when they are no longer remembered. This is a beautiful tradition to keep our loved ones alive for generations to come. For us, the most important thing about this celebration, or any celebration really, is to gather with our family and friends and spend time sharing stories and special moments, because by remembering them, we'll keep them alive forever.  
In our "How Do You Celebrate?" series, we celebrate diverse cultures and religions through recipe and craft content. We share how families honor their religious and cultural traditions.