Recipes
How to Make Edible Meringue Snowmen
By: Highlights Editorial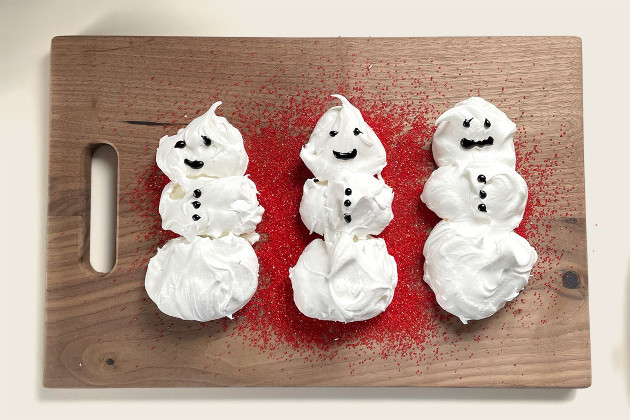 These edible snowmen are the perfect treat for winter birthday parties or holiday celebrations. Kids will be wowed at how egg whites transform into fluffy, glossy meringue. Once your snowmen have baked, let kids add faces and buttons with currants, raisins or chocolate chips.
What You'll Need
What to Do
Spray vegetable oil on a cookie sheet. Preheat oven to 200°F.

Carefully separate 2 large eggs by dropping the egg whites into a glass bowl. (Reserve the yolks for another use, or discard.) Add cream of tartar to the egg whites and beat at medium speed until fluffy.

Gradually, a tablespoon at a time, add ½ cup sugar while beating at high speed. Beat until firm peaks form.

Drop 3 spoonfuls of meringue, one above the other, onto the cookie sheet.

Use the back of a spoon to coax the spoonfuls of meringue into a snowman shape.

Bake for 2 hours or until lightly browned. When cool, store any extras in an airtight container.

Decorate each snowman with currants or mini chocolate chips to make buttons and a face, using a small dab of white frosting to hold the decorations in place.