Arts & Crafts
How to Make Interlocking Building Blocks
By: Highlights Editorial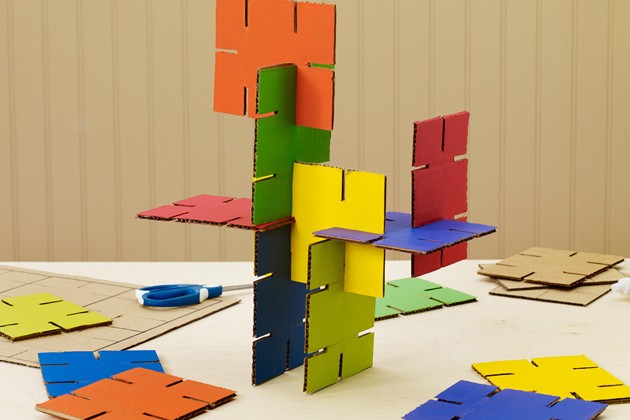 These interlocking block cards are simple to craft and have lots of construction possibilities. They're also super portable (hello, playdate!). So encourage your budding architect to measure, cut and build – and create interlocking building toys!
What You'll Need
What to Do
Measure and mark 4-inch by 5-inch rectangles on the cardboard, then cut them out.

On the short ends of each card, cut a 1-inch slit. On the long ends of the card, measure 1¼ inches from each end and make two 1-inch slits.

Paint the cards and let them dry. (We recommend two or three coats of paint for best color, or use one coat of white paint and one coat of color paint.)
Extend the Fun
Younger kids: Describe what your child is doing as he's building. Talk about the colors of the pieces he's connecting, how tall the structure is, or how the pieces fit together (try snuggly or perpendicular). This can expand his vocabulary and help him connect actions to words.   
Older kids: Encourage your child to make flat building cards in other shapes. She might have fun making circles, triangles or hearts, too.