Social & Emotional Development
The Ultimate Baby Song Playlist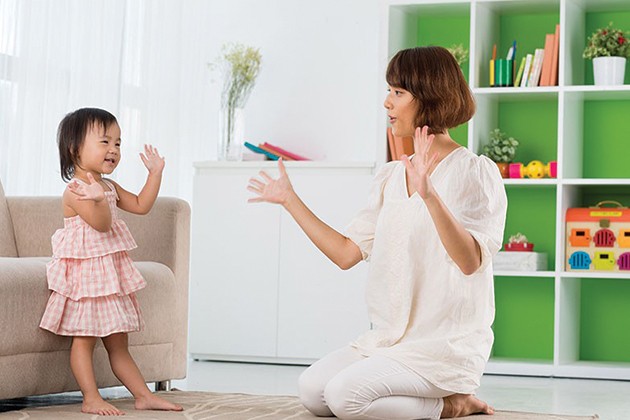 4 minutes to read
Ages 0-5
Go ahead. Pump up the volume. We've found tunes for all seasons and reasons.
Babies are naturally drawn to music. It's why parents everywhere have sung lullabies since the dawn of time, why so many baby toys play songs (though not necessarily your favorites) and why there are so many adorable viral videos of toddlers cutting a rug online.
Here are a few more things you should know about music for babies:
The repetition of lyrics in nursery rhymes is good for language skills.
Hand motions boost fine motor skills.
Lullabies soothe and lull little ones to sleep.
Fast-paced, rhythmic songs get little ones up and moving.
What's more, almost any mainstream music you like, from children's songs to classical to contemporary rock, is worth testing. If your cutie enjoys it, it's baby friendly.
To boost your baby song playlist, try these ideas:
Classic lullabies 
Hearing develops well before eyesight. That's one of the reasons babies stop crying simply at the sound of their parent's voice. A sweet lullaby, sung by a parent is, well, music to a baby's ears. Even if you can't croon along with the best of 'em, try singing one of these while rocking your baby to sleep: "Rock-a-Bye Baby," "Hush Little Baby."
Nursery faves
Research indicates that words set to music help babies learn words more readily. And this is where nursery rhymes come in. Sing them to your little one during tummy time, to hold interest during diaper changes, on a car ride or any other time you think a diversion will work. Try leaving off the last words or line of a song to inspire older babies. Before you know it, your little crooner may surprise you and finish the tune. Get started with old standards, including "Baa Baa Black Sheep," "Twinkle, Twinkle Little Star" and "Mary Had a Little Lamb."
High-minded greats
The soothing sounds of classical tunes can calm a cranky baby, and—who knows? —they may inspire your baby to become a fan later in life. Soft, classical sounds are great for background music; they won't distract the way faster-paced tunes can. Sample classical or even opera. Consider Handel's "Water Music," Brahms's "Lullaby" or Mozart's "Piano Sonata no. 12."
All about me
We love tunes that help teach kids body parts, how to move arms and legs and yes, how to follow directions too. Gestures are a precursor to learning spoken language. Studies have shown that the faster a child grasps gestures, the earlier the child is likely to speak. Check out tunes with accompanying movements, including "Head, Shoulders, Knees and Toes," "If You're Happy and You Know It," "Itsy-Bitsy Spider" and "Wheels on the Bus." 
Surprise endings
You're guaranteed to get a squeal of glee when you sing songs with a twist. Sure, some are silly, but isn't that what music is all about? To entertain your tot and share a giggle, cue up chart-toppers such as: "Pop Goes the Weasel," "A-Tisket, A-Tasket" and "Ring Around the Rosie" (because, of course, we all fall down!).
 One-hit (animal) wonders
Kids love animal themes, and they love music too, so combine the two and you have a winner. Don't be surprised to see baby bopping up and down to a playlist that includes "Old MacDonald Had a Farm," "Baby Beluga," "The Ants Go Marching," "Three Blind Mice" and "The Farmer in the Dell."
Old reliables
You can't celebrate a birthday, a national holiday, the start of baseball season and more without crooning a few tunes your own parents taught you. Happily, there's a baby-friendly song for just about every season and occasion, so your options are endless. Get started with "A Bushel and a Peck" for Valentine's Day, "Yankee Doodle" for Memorial Day or July Fourth and "Casper the Friendly Ghost" for Halloween.
Weather songs
There are few better ways to teach your child weather words (and make the concept stick) than by putting the words to music. Match your tunes to the conditions outdoors and the clothes your child is wearing. Here's your chance to step up to the microphone with your own rendition of "Here Comes the Sun," "Let it Snow," "Rain, Rain, Go Away" and "Mr. Sun."
Reggae and country
With their highly distinctive regional sounds, these two genres top the list of favorites for hip beat-driven members of the two-and-under set. Dig up recordings from your own go-to list of stars or sample sounds from Bob Marley, Dolly Parton and Darius Rucker.
Pop and rock music
While these may not seem like a logical choice for young listeners, chances are you'll be pleasantly surprised by your tot's happy reaction to music you love to hear. Dance, shake and jiggle together while you're at it. Babies who move rhythmically to music smile more and are more adventurous than those who simply listen. Cue up Justin Timberlake, Taylor Swift and Bruno Mars.