Family Games
11 Memorial Day Activities for Kids
By: Nancy Josephson Liff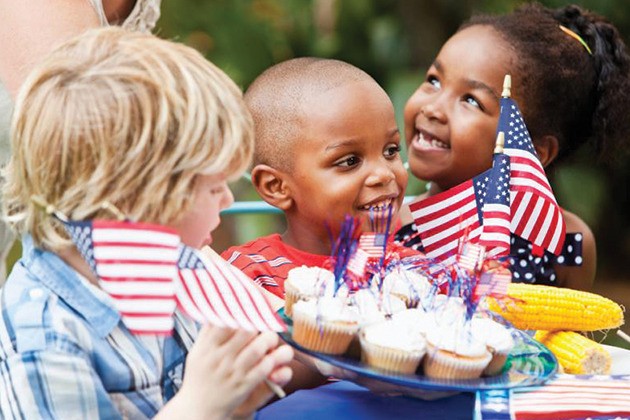 Looking for a stack of great ideas to make the most of the long weekend, with meals, games, activities and crafts to keep the family busy and happy for 3 straight days? Look no further. We've done the research and found 11 novel ways to boost the fun and excitement of the Memorial Day weekend. Try a few and have a blast!
1. Start off with a super easy red-white-and-blue breakfast.
Make in this order: a thick slice of whole wheat toast; a smear of cream cheese; a layer of strawberry jam; and a scoopful of blueberries and some thinly sliced bananas artfully arranged (like a flag) on top.
2. Dress down for the occasion.
Suit up and welcome the unofficial start of summer. Slip on some comfy jeans or sweats; crisp white shorts or dresses; awesome red, white or blue T-shirts, hats and caps; and white skimmers or sneakers. Hold flags, salute and sing patriotic songs.
3. Take a no-cost trip along the information highway.
Challenge the kids to a Memorial Day trivia game via Google. Let kids search for the who-what-where-when-why details of this important national holiday. The one who collects the most facts gets to choose red, white and blue treats for 3 whole days! (It was originally called Decoration Day, as a way to honor American Civil War soldiers who died serving the country. For the first few decades, the North and the South celebrated it on different days.)
4. Gather flowers.
Scout your community and neighboring towns in search of Veterans of Foreign Wars members, who swap handmade poppies for small donations—they've done it for decades. Buy as many (or as few) poppies as you wish. Funds go to state and national programs that assist those who have served.
5. Attend a parade.
Grab a front-row seat to watch marching bands, Scouts, community leaders as well as military, civic, volunteer and service organization mark this important day. Wear red, white and blue, wave flags and hold up bold homemade signs that spell out "thanks" for the vets.
6. Take in a concert.
Anywhere. Any day. Or catch live streaming of the National Memorial Day Concert on the West Lawn of the U.S. Capitol. Make a playlist of the top-20 patriotic tunes to sing along to and turn up the volume on that long ride to Grandma's—or at home. 
7. Point, click and snap some pictures.
Participate in a nationwide search to locate (and document) as many small-town war memorials as possible. Stars and Stripes, a group that publishes news and info for military families, is looking for hidden memorials only locals would know about. High-resolution pictures will be used to help photographers create an interactive map of war memorials in every state.
8. Remember our heroes.
Track down a nearby veterans hospital or residential facility and donate books and movies you are no longer using. String together beaded bracelets that spell out the words "thank you." When you reach a facility, hand them out. Collect toiletries (soap, shampoo, toothpaste and so forth) and send them overseas to military personnel.
9. Show your colors.
Fill flower boxes and planters with red, white and blue flowers. Line the patio, porch or sidewalk with all-American flags or pinwheels.
10. Set up a competition.
Stage a multi-family or neighborhood T-ball or softball game at a local park, community center or town pool.  Celebrate later with homemade or store-bought patriotic (red-white-and-blue) Rice Krispies treats or all-American ice cream or ice pops.
11. Host a party—with a twist.
Ditch the usual burgers and hot dogs. (OK, not completely. Just make fewer.) Instead, invite families to share their cultural heritage on this day of remembrance. Ask guests to contribute to a potluck dinner, bring kid-friendly games and activities and help launch the neighborhood's first-ever multinational, outdoor-food, storytelling event.
Whether to the pool, the playground, Grandma's house or on vacation, you'll find plenty of summer fun for kids. From hands-on summer activities for kids to their new favorite summer shirts and fun travel games to take along … let's go summer!