Arts & Crafts
31 Glow-in-the-Dark Ideas for Halloween Fun
By: Amanda Mushro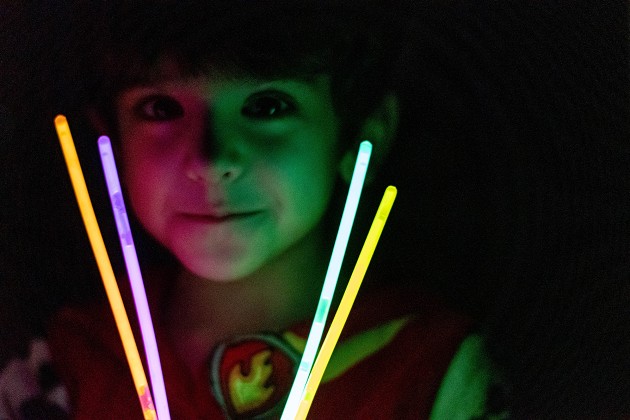 Halloween fun does not have to end just because the sun goes down. You just need a little glow to keep your Halloween activities and crafts going. We've rounded up the best glow-in-the-dark party ideas to throw a Halloween bash where you will receive glowing reviews. From costumes, games, crafts and decorations, these are some bright ideas that will light up Halloween night.
After your kids have donned their Highlights glow-in-the-dark hoodies, turn down the lights and turn up the fun with these 31 glow-in-the-dark ideas for your Halloween celebrations. 
1. Give your jack-o-lanterns a colorful glow at night by placing glow sticks inside a mason jar and popping the jar inside the pumpkin.  
2. Create a glowing stick figure costume by using clear packing tape to attach glow stick bracelets and necklaces to a black hooded sweatsuit. Don't forget the back of the costume!  
3. Make glowing eyes decorations by cutting out two circles—to look like eyes—in a paper towel roll and sliding a glow stick into the roll. Place the rolls outside in bushes and trees so it looks like a pair of glowing eyes are looking at you! 
4. Before trick-or-treating starts, place a glow-in-the-dark necklace or bracelet on your child so they are easy to spot at night. 
5. If you are looking to swap out sweets for trick-or-treaters, glow sticks are a fun alternative that kids will enjoy just as much as candy. 
6. Make a glow-in-the-dark bowling set by filing empty plastic water or soda bottles with glow sticks. Grab a basketball or a kickball to knock over the glowing bottles for an inexpensive Halloween game. 
7. Get ready for Halloween celebrations with a glow-in-the-dark bath. Toss a few glow sticks into the bathtub, fill it with water, turn down the lights and let your kids enjoy the fun light show. 
8. Create a Halloween scavenger hunt by hiding glow sticks and letting kids search for them. The winner is the person who finds the most glow sticks. 
9. A glow-in-the-dark Halloween sensory bin is easy to make with cotton spider web decorations, plastic spiders and glow sticks. Turn down the lights for some Halloween sensory fun.
10. If your kids love to make slime, change up their regular slime recipe and use glow-in-the-dark glue instead of regular glue to make a glowing fun time. 
11. Skip carving pumpkins this year and instead let kids use glow-in-the-dark paint to make their pumpkins glow at night. 
12. Place glow sticks inside balloons and draw a ghost face on each balloon. Hang the balloons around the party area or scatter them on the floor for glowing pops of color. 
13. Make glowing drinking cups by taking two plastic cups—one clear and one opaque—and put a glow stick bracelet on the bottom of the opaque cup. Place the opaque cup into the clear one and add their favorite drink. 
14. Kids can make DIY glowing ghost lanterns with small plastic jars or bottles. Start by making ghost faces on the containers with a black marker and then put a few glow sticks inside to light up their "ghosts."
15. Make a DIY ring toss game with glow sticks bracelets and a few empty plastic bottles. Use craft paint to turn the bottles into stilly monsters and ghosts, and have kids toss the bracelets to capture the monsters and ghosts. 
16. A few drops of glow-in-the-dark paint added to a bottle of bubbles makes colorful bubbles that will glow at night. 
17. If your child is dressed up as a princess or ballet dancer for Halloween, attach glow sticks to their skirt or tutu so they can light up the night as they trick-or-treat. 
18. Create a glowing path for trick-or-treaters with clear plastic cups, a black marker and glow sticks.  Flip the cups upside down, draw ghost faces on the cups and place a glow stick inside each cup. 
19. Make a glowing jellyfish costume by lining the inside of a clear umbrella with glow sticks. Attach pieces of ribbon and glow sticks to bottom of the umbrella to make the make the tentacles. 
20. Construct a glow-in-the-dark selfie station by hanging up large pieces of black paper and giving kids glow sticks, necklaces and bracelets to pose with. 
21. Welcome trick-or-treaters by writing "Happy Halloween" in glow sticks that are taped to your house or door. 
22. Transform a piece of cardboard into a glow-in-the-dark cornhole board. Start by cutting out a ghost shape, making sure to cut out eyes and a mouth. Prop one side of the ghost up with a few stacked cups and use glow stick bracelets to toss into the cutouts. 
23. Repurpose your old plastic Easter eggs by placing mini glow sticks inside and small pieces of candy to create a glow-in-the-dark candy hunt. 
24. Make glowing monster rocks by using glow-in-the-dark paint to make spooky and silly rock monsters. 
25. Create a glow-in-the-dark rice sensory bin by covering some of the rice in neon paint and placing glow sticks inside the bin.
26. Give tic-tac-toe a glow-in-the-dark upgrade by making the board, Xs and Os, from glow sticks. 
27. Add a few drops of glow-in-the-dark paint to an ice cube tray and fill with water. Place a craft stick in each cube and put the tray into the freezer. Then let the kids use the glowing ice to paint on black paper. 
28. Have a hula-hoop contest but make it glow by wrapping glow stick necklaces around the hula-hoop. 
29. Make glow-in-the-dark spiders by putting glow sticks inside an empty water bottle and wrapping chenille sticks around the bottle to make the spider legs. 
30. Design glow-in-the-dark party decorations by linking or looping glow stick necklaces and bracelets. 
31. Create glow-in-the-dark lava lamps by filling a freezer bag with cooking oil or baby oil, three tablespoons of glow-in-the-dark or neon paint and water. Finish by sealing the bag with tape. 

Inspire positivity, day or night, with this glow-in-the-dark shirt. Whether your child daydreams about saving the planet or trekking across the country, this tie-dye effect tee can "glow" with them on their journeys!