Cultural Understanding
Celebrate Black History Month All Year with These 5 Books
3 minutes to read
Ages 3+
Historian Carter G. Woodson led the efforts to establish February as Black History Month, a time to honor the contributions of Black people from all eras, the U.S.'s past and its present. Parents can use the resources below to extend the learning and fun happening at school this month to home!
At Highlights, we always know a sure way to explore any topic with kids—read, read, read! Our friends at the Highlights Foundation, a nonprofit that supports children's storytellers, have shared with us some of their favorites from their partnership with The Brown Bookshelf, a program to amplify Black stories:
Black Magic, by Dinah Johnson and R. Gregory Christie
Image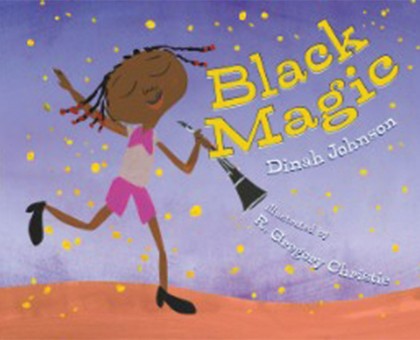 Ages: 5–9
Black is a look, a taste, a speed, an emotion. It's the surprising stripes on a zebra, the taste of dark chocolate, the scary, exciting feeling of going inside a tunnel, and a mother's voice as her daughter falls asleep. In this celebration of the African American spirit, Dinah Johnson and R. Gregory Christie paint a picture of "black" that is vivid, varied and proud.
A Star Like Jesse Owens, by Nikki Shannon Smith
Image
Ages: 8–11
Matthew is a young African American boy who dreams of becoming an Olympic runner like his hero, Jesse Owens. There's one big problem, though—Matthew has asthma, which makes it hard for him to run. When his journalist father is assigned to cover the 1936 Olympics in Germany, Matthew jumps at the chance to tag along. He has never been out of Ohio before, let alone to Europe. Will Owens's amazing Olympic victories inspire Matthew in his own chosen career?
Nana's Favorite Things, by Dorothy H. Price
Image
Ages: 5–9
Sasha loves to shoot hoops and ride her bike. Those are her favorite things to do. But she also enjoys the yummy treats made by her Nana. One day, Sasha learns her Nana has diabetes and can no longer eat the tasty snacks they have baked together over the years. With quick thinking, Sasha comes up with a clever plan to help her Nana become healthier and more active. Before long, Sasha and Nana realize they both have some new favorite things.
Malaika's Costume, by Nadia L. Hohn
Image
Ages: 3–7
It's Carnival time. The first Carnival since Malaika's mother moved away to find a good job and provide for Malaika and her grandmother. Her mother promised she would send money for a costume, but when the money doesn't arrive, will Malaika still be able to dance in the parade? A heartwarming story about family, community and the celebration of Carnival, Nadia Hohn's warm and colloquial language and Irene Luxbacher's vibrant collage-style illustrations make this a strikingly original picture book.
The Magic in Changing Your Stars, by Leah Henderson
Image
Ages: 8–12
Can you change your fate—and the fate of those you love—if you return to the past? Journey to 1939 Harlem in this time-travel adventure with an inspiring message about believing in yourself. Featuring an all–African American cast of characters and infused with references to Black culture and history, this work of magical realism is sure to captivate and inspire readers.
From space to sports, these original stories and activities from Highlights magazines will inspire you to learn more about Black history all year long.