Family Games
Hand and Finger Games to Play with Your Baby
By: Stacey Feintuch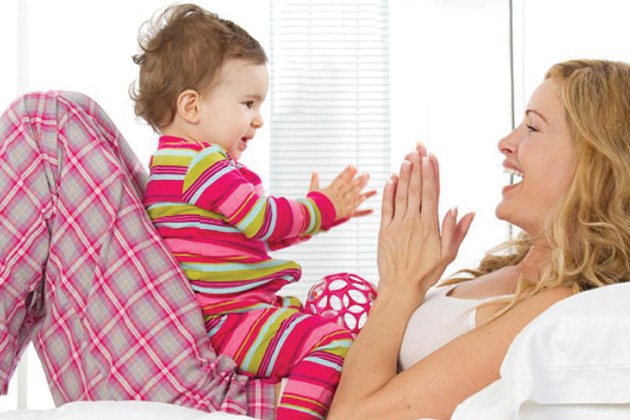 For Newborns and Babies
1. Puppets on Parade
Best for: 0–4 months
You'll need: Store-bought or homemade fingertip puppets
(To make your own: cut the fingertips off a pair of soft, knit gloves or snip construction paper into short rectangular strips, and then tape them, like cylinders, around the tips of your fingers. Use a marker to draw features, including eyes, ears, nose and mouth.)
To start: Place your baby on your lap or in a bouncy seat.
What to do next: Slide one puppet on each of your index fingers. Say your baby's name and slowly introduce each puppet with the following greetings: "Hello, Sophia. I'm Harry the horse," and "I'm Henrietta the rabbit." Move puppets up and down or in a circle. Make them dance, sing, tickle, kiss or bow (by bending your finger). Give your little puppeteer time to track your movements or imitate them.
To mix it up a bit: Put a single puppet on your baby's index finger. In time, they may bend their fingers or mimic your actions. If your baby enjoys puppet talk, continue the conversation between your cutie and their new puppet friends.
2. Baby Insta-Chef (aka Patty-Cake)
Best for: 6–10 months
You'll need: Baby's hands and yours
To start: Place your baby in a bouncy seat, highchair or in your lap and facing you.
What to do next: Hold your baby's hands and clap as you recite these words: "Patty-cake, patty-cake, baker's man. Bake me a cake as fast as you can. Pat it and roll it, and mark it with a B." Then finish gleefully with the following phrase and motion: "And put it in the oven for baby (point to your child) and me."
To mix it up a bit: Personalize the game for your budding baker. Work their name into the classic text; then wiggle their toes or tickle their knees when you say your baby's name.
3. My Little Picasso
Best for: 8–12 months
You'll need: Gooey, smooth foods that are mild in taste. Try applesauce, yogurt or pureed fruits and veggies.
To start: Slip your baby into a highchair with a rimmed tray or settle your little one in front of a baking sheet on a newspaper-covered floor.
What to do next: Scoop a dollop of food onto a stable surface and encourage your little artist to express their creativity to their heart's content. Name the colors and describe the textures as your artist paints their masterpieces (or snacks).
To mix it up a bit: Add texture to the goo with bits of cereal.
4.: Stick It and Pick It
Best for: 9–18 months
You'll need: Sticky contact paper, tape and some rubber or plastic toddler-safe toys
To start: Proceed to any room with a bare floor (without an area rug or a carpet).
What to do next: Place contact paper on the floor, sticky side up. Tape all four edges to the floor to secure it. Scatter a few medium-size toys on the contact paper, so they stick firmly. Help your cutie try to lift them. Cheer when they set them free.
To mix it up a bit: Gently press your baby's or toddler's fingertips to the tape or sticky paper and help to lift them off again. Let your little one experiment with tape.
For Babies and Toddlers
1. Baby Touch and Test
Best for: 10–12 months
You'll need: Items from around the yard or house: a silky scarf, crumpled paper, a cotton T-shirt, a felt square, a fleece hat, a cardboard square, a feather, a blade of grass or anything else that's fun to touch and safe to play with.
To start: Sit on the floor with your baby or toddler, say, in the family room or playroom, with the objects in front of them.
What to do next: Encourage your pint-size explorer to touch each object (don't let them put anything unsafe into their mouth). Coax your little one to experiment with textures.
To mix it up a bit: Get creative. Take your baby into the primary bedroom (or your largest and most interesting) closet. Let them run their hands over a pair of wool pants, a fuzzy sweater, a satin robe and more.
2. The Creepy, Creepy Crawler (aka The Itsy-Bitsy Spider)
Best for: 12–24 months
You'll need: Your hands and fingers—and baby's
To start: Situate yourself anywhere you can sit comfortably, facing your baby.
What to do next: Make your spider by touching your left index finger to your right thumb and your right index finger to your left thumb. Walk your pretend spider up a make-believe wall. Sing the famous song, adding tame or exaggerated motions. Prepare to perform the song multiple times!
To mix up a bit: Teach your cutie to hum (or rock) along with you, and help their musical little hands master the upward, downward and rising sun motions.
Enjoy meaningful time together and introduce babies and toddlers to their world. It's never too early!