Recipes
How to Make a Fruit Cornucopia for Kwanzaa
By: Highlights Editorial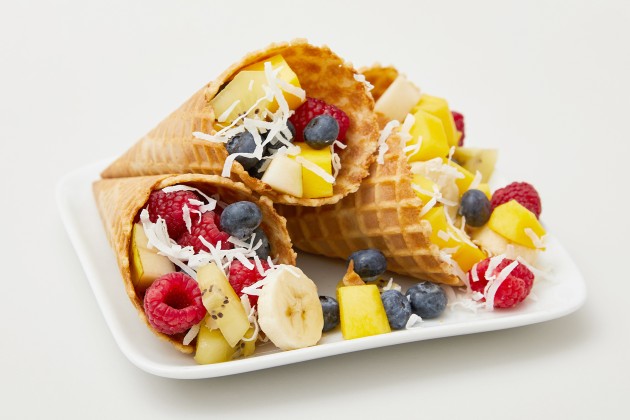 Celebrate Kwanzaa by displaying—then eating!—this tasty treat that represents mazao ("crops" in Swahili), one of Kwanzaa's symbols.

Kwanzaa is a holiday that was created by Dr. Maulana Karenga in 1966. It celebrates family, community, and culture. The holiday stems from the African tradition of giving thanks for the first fruits of the harvest (Kwanzaa means "first fruits" in Swahili). There are seven principles celebrated during this holiday: unity, self determination, collective work and responsibility, cooperative economics, purpose, creativity, and faith. A candle is lit each day on a kinara. Each candle represents one of these principles.

To Make the Cornucopia:
1. Peel two small bananas, a mango, two pears, and two kiwis. Wash one cup of berries.
2. Cut the fruit into small pieces. (Throw away the pear cores and the mango seed.)
3. Gently combine the fruit in a bowl. Then spoon the mixture into waffle cones.
4. Arrange the cones on a large plate or serving tray.
5. When it's time to eat them, you can top each cornucopia with a sprinkle of coconut flakes or a drizzle of honey or chocolate sauce. Enjoy!
Each night of the seven nights of Kwanzaa, families come together and light one of the candles on the Kinara (candleholder) and then a Kwanzaa principle is discussed. Read about how one family incorporates Kwanzaa traditions into their holiday season.