Recipes
How to Make Stovetop Popcorn
By: Rosemary Black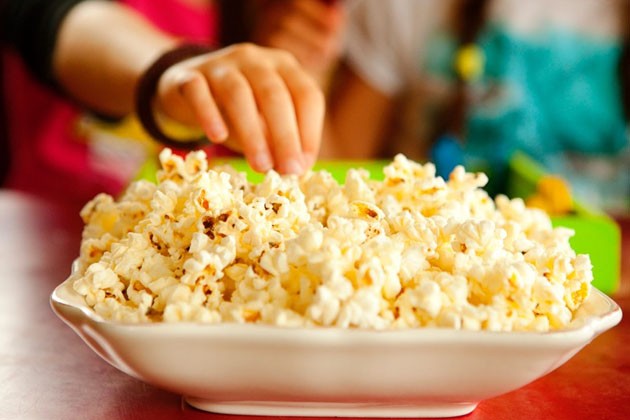 It's time for some healthy popcorn perfection! Stovetop popcorn offers just the right mix of cooking drama and gastronomic satisfaction — and it goes from burner to belly in 10 minutes flat. Here's how to make popcorn on a stove! 
When we were growing up, my father used to make multiple batches of homemade popcorn in a giant cast-iron skillet on the stove on a regular basis. 
As each batch finished popping, it would be transferred into a giant metal dishpan, and he'd keep popping until the dishpan was full. Then the popcorn would be scooped into little wax-paper bags, which we took to school for snacks. (With 11 kids, my parents weren't about to start spending money on pricey store-bought brands.) Truth be told, there was the occasional Sunday night when my parents let us have just popcorn and homemade hot cocoa for supper—which we considered a real treat. My kids haven't gotten that lucky yet, but we still make all our popcorn from scratch.
Popping popcorn at home is awesome. In minutes, a scant ½ cup of un-popped popcorn is transformed into a generous bowl of creamy white, fresh popcorn just waiting to be anointed with melted butter and salt. You can customize this snack any way your family likes: sweet, salty, spicy, crunchy (with un-popped kernels) soft or chewy. Some kids love a cinnamon-and-sugar version, while others like a savory finish with freshly ground black pepper and Parmesan cheese.
Whatever you use, popcorn is a fiber-rich snack that will fill the kitchen with its wonderful aroma. Make a big batch for family game night; bag up the leftovers for a snack the next day.
This is truly one of the easiest, no-fail recipes ever—and kids love to help!
Perfect Popcorn
Note: Use a large saucepan (a five-quart one is ideal) or a Dutch oven with a tight-fitting lid so the kernels don't wind up flying out of the pan when they pop. 
What You'll Need
What to Do
Let your child measure and pour the oil into a large saucepan. (A heavy 5-quart size works very well here, and you will want to use one with a tight-fitting lid.) Have them place just 3 kernels of popcorn into the saucepan, and then put the lid on top.

Set the saucepan on a stove burner and turn the heat to medium-high. Listen carefully, and after about 3 minutes, you will hear the kernels pop.

Remove the saucepan lid, gradually add the remaining popcorn, and replace the lid. Let the popcorn pop, frequently shaking the saucepan and listening for the popping noises. It may take about a minute, and then the pops will be rapid and constant. Continue shaking the pan until the popping noises stop. Remove the lid and transfer the popcorn to a large bowl.

Let your child pour the melted and cooled butter from the measuring cup onto the popcorn. Let them sprinkle salt, grated cheese and pepper (which is optional).