Outdoor Play
How to Start a Community Garden
By: Highlights Editorial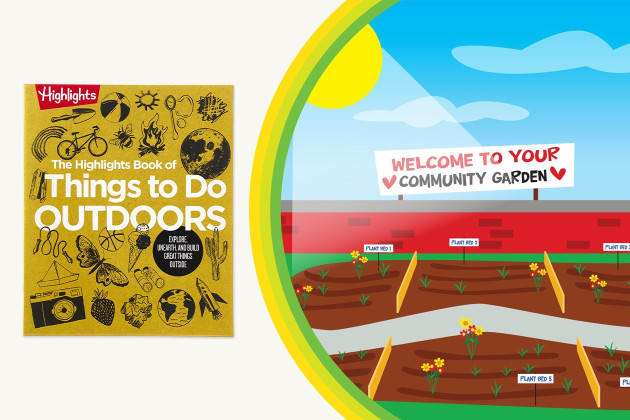 Looking for outdoor activities to do with your kids? This community garden activity from the Highlights Book of Things To Do Outdoors can be a family project! 
A lot of planning takes place before any plants go in the ground in a community garden.
What You'll Need
What to Do
Ask one or more adults to help you with this project. Then find out what kind of garden your community wants: With an adult's help, create a survey about the garden and send it out to people in your community. Collect feedback. Hold a meeting to discuss the results and start making important decisions. 

Based on the feedback you receive; decide which kind of community garden you want to have. Will everyone have their own plot? Will everyone work as a team on one large garden? Will you keep, sell or donate the food you grow? 

Consider finding a sponsor. If you're starting from scratch, a sponsor, like a local business, can help pay for the supplies and tools you'll need to create your garden. With the help of a grown-up, call or email potential sponsors to let them know about your project. Ask if they would be interested in partnering with you. 

Have an adult help you choose a site. Gardens need healthy soil, at least six hours of sunshine a day, and a dependable water source. Get permission and any necessary permits from your community leaders to create the garden in your selected site. 

Establish the rules. Create a work schedule. Identify work hours and days. Determine, in detail, how you will assign plots, manage weeds and pests, store and share tools, etc. Decide whether you will charge dues. Things will run much more smoothly if everyone agrees on the ground rules from the beginning. 

Make a plan. Measure the site and draw your plan. Include the length and width of each plant bed. Don't forget to include space for aisles so people can walk between the beds in the garden. You might also want build a fence around your garden to protect it. 

Plant the garden. Plan a community workday to clear the land, prepare the soil and get the plants in the ground.
Tip: Make a sign that welcomes gardeners but that also tells the story of why your community came together to create the garden. You could also list the garden's rules at the entrance. These signs tell newcomers and visitors how special your place is. 
Did you love this project found on page 118 of The Highlights Book of Things to Do? The Highlights Book of Things to Do Outdoors is the essential book of curiosity, exploration and the great outdoors. Kids ages seven and up will find answers to countless nature-related questions and hundreds of ways to build, experiment, craft, cook and help protect the planet.