Social & Emotional Development
When The Holidays Hurt: 4 Ways To Parent Through Grief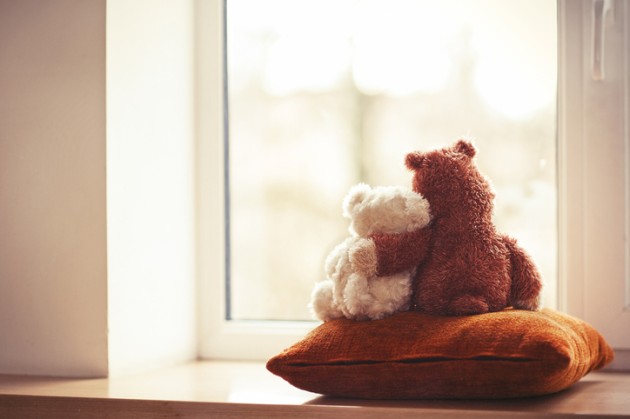 3 minutes to read
For All Ages
There are many reasons why the holiday season can hurt. We see ads and movies depicting this time of year as joyful and connected. But some families are experiencing hardships – the loss of a job, or a devastating illness or grief after losing a loved one. Even without tragedy, some families who struggle to connect during regular days bow under the pressure of the intense family time and cramped quarters of holiday vacations. And it's winter! In addition to seasonal affective disorder, some people experience more mild but real winter blues.  
Yet, weirdly, my best childhood Christmas memories are of the year my dad lost his job. My mom declared a "Little House Christmas," and we took inspirations from the beloved children's books by Laura Ingalls Wilder by eating snow with maple syrup, trying to learn banjo and leaning into the romance of a one-gift Christmas morning. Now a parent myself, these memories mean something else to me – they are a testament to how amazing my mom was at using the healing power of play and imagination to help us through a potentially scary time. 
I talked to Confident Parents Confident Kids founder Jennifer Miller about this memory, and her four suggestions for how parents can take care of themselves and their kids when they are experiencing some pain during "the most wonderful time of the year."  
Sometimes there is an unspoken pressure for every moment of the holidays to be joyful and that's just not possible or realistic.
Focus on small joys. 
Sometimes there is an unspoken pressure for every moment of the holidays to be joyful, says Miller, and that's just not possible or realistic, even in the best of times. When most people recall their own favorite holidays, they usually remember small things – moments of connection. "Drawing from your mom's example," Miller told me, "focusing our attention to simple rituals we can do with our loved ones – baking a favorite recipe, a decoration we put on the door – can remind us what there is to love about the holidays."  
Give yourself time away from merriment. 
Whether you are grieving a loved one, a job or just feeling blue, it's important that parents take time to themselves away from family life and the holidays, to just let themselves feel the pain they are dealing with. Miller recommends taking time in nature, which has a natural calming effect. Acknowledging and spending time with one's tough feelings is so important. "A lot of times parents feel they need to shove down their emotions, but shoving down can only last for so long, and an explosion is bound to happen," says Miller. 
Express yourself creatively. 
One of the difficult things about the holidays is that people are busier – and sometimes the friend or confidante we use for support is less available to us in the moments we want. Miller recommends keeping a journal to express feelings. Other kinds of creative expression, like music, dancing, or art, can also help us reveal our emotions. When we can communicate feelings, we give ourselves the distance we need to manage them. 
Include your children in grief and in resilience. 
"I think it's really important not to shield kids from [tough feelings]," says Miller. "Kids need a model of how to manage [pain]." For instance, Miller says, if your family is grieving a loved one, you can include that grief into your celebrations. "You could create a display or put out pictures and spend time together talking about the special memories you have of that person." 
Sometimes, just acknowledging that this will be a tough season can help to lower the expectations. And hopefully, make more room for moments of connection. If not, one thing we know for sure – it will be January soon enough, and January brings no pressure to be merry.