Cultural Understanding
Reap the Benefits of Volunteering Together as a Family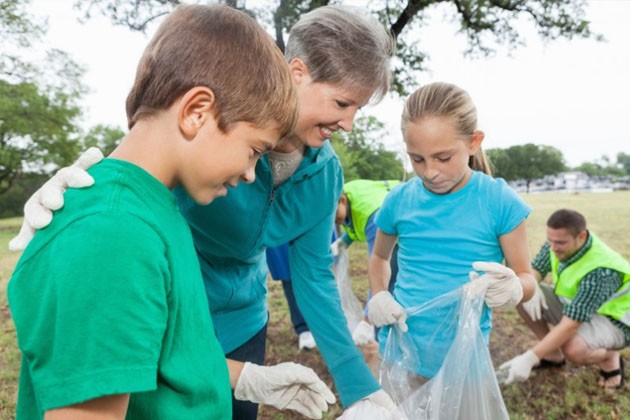 2 minutes to read
For All Ages
When you volunteer as a family, you give kids an up close and personal way to observe life's complexities and to see how the world looks from another perspective. Here's how to get involved and enjoy volunteering together.
Through volunteering, your children will see many things—some sad, others surprising. They will learn that people, animals and natural resources all need care and attention—but there just aren't enough hands or funds to go around. There are many benefits of volunteering. By committing your time, money, skills and energy to improving conditions in your community and elsewhere, you enhance your children's lives as well.
Finding an organization that's a good fit is an important part of the process.
You'll want to make sure your kids have a basic understanding of, and an interest in, a particular activity, for instance, visiting the elderly. Adjust your plan if you believe your kids care more about being around pets or fostering animals that are available for adoption.
Volunteering opportunities fall into several categories. They include:
Feeding the hungry
Donating clothes, toiletries, toys and other items to those who need them
Making towns, parks and cities safer and more attractive
Guarding wildlife and natural resources
Caring for animals
Assisting those without family
Providing academic support in areas such as reading or math (good for older kids)
You may worry that volunteering could interfere with time set aside for other important activities, including reading, music lessons or sports. However, each organization has different needs, and each one requires a different level of commitment. Some prefer long-term help, while others require a set number of hours each month; and still others are fine if volunteers come and go.
Before narrowing the field, visit several facilities, talk to administrators and ask questions. Learn about age restrictions, safety measures, skill requirements, hours of operation, length of commitment, training, orientation and the group's needs and expectations. Look for a program that will enhance your child's creativity, confidence, caring, curiosity or values.
What else can kids gain from giving to and helping others? According to experts, a lot. They can:
Make friends
Have fun
Be creative
Acquire skills
Gain self-esteem and confidence
Ward off boredom
Unwind
Experience compassion
Feel appreciated and useful
Research indicates that an individual who volunteers as a child is likely to volunteer as an adult, so try to create a positive experience, even for the littlest ones in the family. Kids can help you select food and canned goods at the market or remove gently used clothes from your closet—and that's just a start. Who knows where it will end?