Cultural Understanding
Queen Elizabeth II: A Princess Who Could Tune An Engine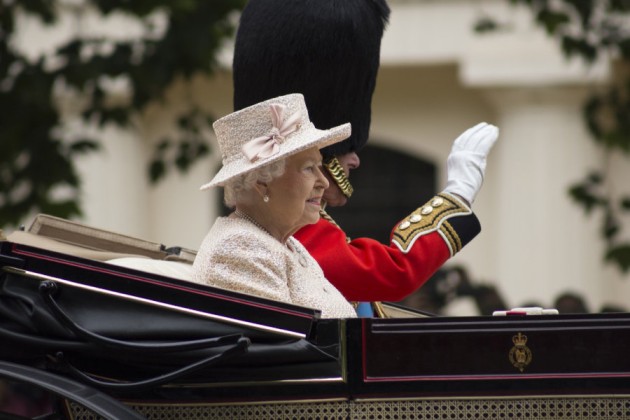 1 minute to read
For All Ages
Today, your kids might be asking you about Queen Elizabeth II, who reigned for seven decades. Highlights Magazine published this article about the longest reigning monarch in British history in 2013. Titled "A Princess Who Can Tune An Engine," the story details the period in history when Princess Elizabeth trained as a mechanic.
This fact-filled story can help kids understand why the world is tuned into news from overseas. 
Image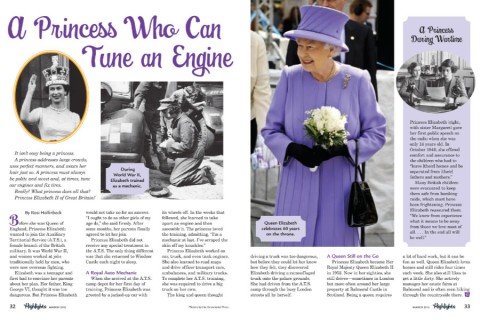 Click here to see the whole article from the March 2013 issue of Highlights Magazine. 
Fun facts about then-Princess Elizabeth's time as a mechanic in the British military: 
Before she was Queen Elizabeth, Princess Elizabeth wanted to join the Auxiliary Territorial Service (A.T.S.), a female branch of the British military during World War II.  Elizabeth was a teenager and first had to convince her parents of her plan.
Though her father, King George VI thought it was too dangerous, Elizabeth joined the A.T.S and did not receive special treatment.
Elizabeth learned to take apart an engine and then assemble it. The princess loved the training. "I'm a mechanic at last. I've scraped the skin off my knuckles," she said.
Princess Elizabeth learned to read maps and drive officer transport cars, ambulances, and military trucks. To complete her training, she had to drive a large truck on her own.
Princess Elizabeth became Her Royal Majesty Queen Elizabeth II in 1952. She drove around London long into her eighties and more often, she could be found driving around her large property at Balmoral Castle. 
During her Platinum Jubilee in 2022, Queen Elizabeth II celebrated 70 years of service on the throne.
Award-winning magazines deliver a monthly dose of positive encouragement, keeping kids of every age inspired and challenged. Subscribe today!