Arts & Crafts
Rainy Day Craft That Will Have Your Kids Painting Up a Storm
By: Valerie Deneen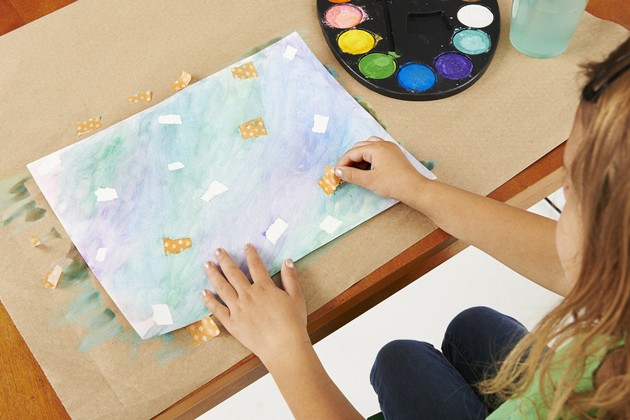 Here's a fun way for kids to ride out a rainy day – a rainy day craft! Let would-be artists paint up a storm and display their painting craft. Or, use their painting and other skills to create additional projects—in this case, a weather-inspired picture frame, a card or a rainy-day bookmark to give as gifts or keep!
What You'll Need
What to Do
Tear masking tape into tiny pieces and place them on the paper.

Paint the entire sheet of paper, including over the tape, and allow paint to dry.

Carefully remove the tape to reveal the raindrops!

Display as is or cut into strips or squares to make bookmarks, a photo frame or a fold-up card to share with family and friends.
Extend the Fun
For younger kids: Mix paints and experiment with colors. Paint a dark and stormy sky, and the sky at sunset. Which colors would you use? Which wouldn't you use? Why? Fold a paper in half or quarters to make a greeting card. Paint a picture of a bright and sunny day on the front. Sign the inside and send the card as a cheerful greeting to a relative or friend.
For older kids: Paint a picture of a cold and windy day or a spring day. Compare them with your rainy-day picture. What did you add? What did you leave out? Locate a raindrop on a leaf, branch or flower. Can you draw it? Time a storm with a clock or stopwatch. See how long it takes the wet ground to dry.