Cultural Understanding
How Do You Celebrate: Christmas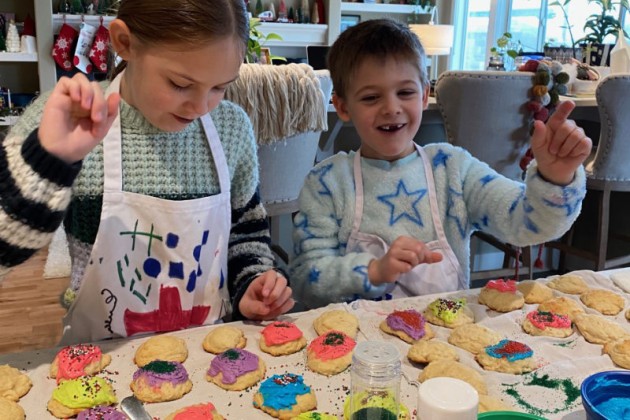 6 minutes to read
Ages 3+
From the huge family Christmas parties my parents hosted when I was growing up to the icing cookies that have been THE holiday cookie of choice since I can remember to the glow of Christmas lights and decorations, I love the Christmas holiday season. It feels like time slows down, and everything revolves around making the most of each moment. It's a time to be cozy and find comfort in holiday traditions. My husband and I have melded his family's Danish traditions with the traditions I grew up with to create a unique Christmas to share with our kids.
Tell us more about how your Christmas traditions evolved.
My husband grew up with the Danish tradition of decorating the Christmas tree on the 23rd. There's a ritual that goes along with it, and it's fun to experience. But since we both love Christmas trees so much and I grew up with my family decorating way earlier than the 23rd, we decided for our family that we'll put up our tree a few days after Thanksgiving. We've kept the feeling of a Danish Christmas, which is the embodiment of hygge—the word that means, roughly, the feeling of coziness. We enjoy time together, and there are so many warm candles and lights. We live in the Pacific Northwest and in the winter, it can be dark before 4:00 in the afternoon, so the holiday lights make this dark time of year feel cheerier and brighter. 
One thing we do that's probably different from a lot of U.S. families who celebrate Christmas is that most of our festivities happen on the 24th.  We have our holiday meal and open most of our presents (except those from Santa, which don't arrive until the next morning). We also sing songs around the Christmas tree. My husband and I made family holiday song booklets several years ago for our Danish family, and we still use them to help us remember lyrics.
What are your favorite memories of Christmas as a child? 
A lot of my childhood and early adult Christmas memories were made in my parents' kitchen. From baking icing cookies year after year to the one year my sister and I tried (and failed) to make lemon bars, making holiday treats is an indelible memory. Sometimes it would look like we were about to open a bakery because we'd make enough for the huge family Christmas party. Some of the things I love most about the holidays now is what I loved as a kid. Bringing up the holiday decorations from my parents' basement, while Christmas music played loudly from the living room invoked a special kind of excitement. Christmas was underway, and we were all together to enjoy it! 
What is the most meaningful Christmas tradition that your family observes? 
We live far away from family, so we often have a small Christmas, but it feels big because of our long-held traditions. My parents gave my siblings and me a Christmas ornament every year in our stockings. I have Christmas ornaments literally as old as me! Now my kids get an ornament each year in their stockings. Unboxing all of them is a joyful and sometimes emotional experience, especially since my dad passed away a few years ago. We see his handwriting on some of the ornament boxes and remember him being excited about passing on the ornament tradition, like when my daughter got her first ornament on her first Christmas. Seeing these meaningful ornaments hanging on our family room tree and seeing how excited my kids get to unpack them each year is priceless. 
Image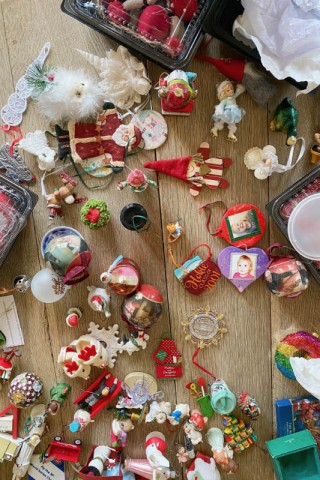 On Christmas Eve, when we're making dinner, the kids feed our Nisse (elf). Nissen are Danish house elves who're responsible for missing socks and the weird noises in the house—they're mischievous! But on Christmas Eve our Nisse gets a tiny bowl of porridge and a tiny cup of beer, and in return he leaves a present for each of the kids. My husband remembers feeding their Nisse growing up and the thill of finding a present waiting for him that could be opened before the others under the tree. These presents usually keep the kids busy while dinner is being made, which is very thoughtful.
Tell us about your Christmas celebration and preparations.  
Aside from decorations (we decorate four trees around our home), food plays a huge role in contributing to the slow, cozy feeling. We make icing cookies and a few other cookies chosen by the kids. There's also a set menu every year. On the 23rd we have risengrod, which is a Danish rice porridge served with butter and cinnamon sugar. It's truly dessert for dinner. 
On the 24th, we have a special Danish holiday dinner. Ours is roasted duck, brunede kartofler (caramelized potatoes), rodkal (pickled red cabbage), gravy and roasted brussel sprouts or green beans (we have to have something green!). For dessert we have ris a la mande, which is a rice dessert made from the leftover porridge. Whipped cream is folded into the cold porridge to make it light and fluffy and slivers of almonds are folded in as well. It's topped with a warm cherry sauce, usually warmed cherry pie filling. But it's not just a dessert. It's also a game! In addition to the almond slivers, there's also one whole peeled almond dropped in and hidden in the mixture. Whoever finds the almond while eating their dessert, wins a prize, usually chocolates or marzipan goodies. If no one finds the almond on their first serving, there are seconds on dessert!
What would you like other families to know about how you celebrate Christmas? 
Image
One thing we always do is take a break midafternoon on Christmas Day for Danish lunch. The spread is impressive! Danish lunch is three courses of open-faced sandwiches. There's a fish, meat, and cheese course. These courses are meant to be eaten slowly, with breaks between each. It's a meal and an experience! The menu can vary and often depends on what region of Denmark a person is from, but there's typically pickled herring, grav lox (smoked salmon), various deli meats, sliced hard-boiled eggs, smelly, creamy bleu cheese—the list goes on! I like to have thinly sliced English cucumbers on the table because everything else is so rich! These are accompanied by rugbrod (a Danish rye bread) and smor (butter) or fet (fat, typically bacon fat). 
If the Christmas season is time for us to slow down, it seems like time stops on Christmas Day so we can savor all the memories we've made. 
In our "How Do You Celebrate?" series, we celebrate diverse cultures and religions through recipe and craft content. We share how families honor their religious and cultural traditions.