Arts & Crafts
Screen-Free(ish) Sundays: 5 Crafts That Celebrate Self-Expression and Creativity
By: Amanda Mushro
Some arts and crafts require kids to follow step-by-step directions — but there's more than one way to get creative! Sometimes the best way to encourage kids to explore self-expression is to offer up crafts that have endless possibilities and let them use their own ideas to make a masterpiece.  
If you're looking for inspiration for crafts that will foster your child's creative side, here are five fun craft ideas for kids that celebrate and encourage self-expression and creativity.  
Image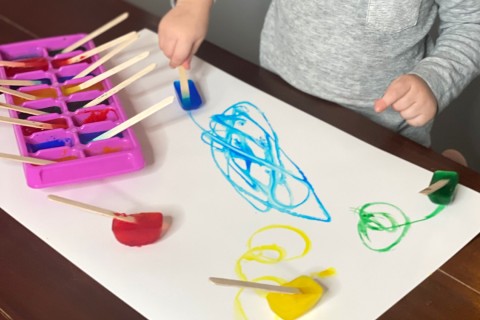 Painting With Ice 
Painting provides limitless opportunities for creativity. This craft idea for kids doesn't require paint brushes, but it still lets them express themselves through colors, shapes and textures. Children can do this activity inside or outside, and they will love seeing their frosty creations come to life. 
What You Need:  
1 cup of water 
Food coloring 
Craft sticks 
Ice cube tray 
Paper or white material 
What You'll Do:  
Pour the water into the ice tray, put a few drops of food coloring into the cubes, and mix.  
Put a craft stick into each cube and place the tray into the freezer.  
When the ice has frozen, take out each cube and let kids paint with the ice on paper or on leftover scraps of material, or take the painting fun outside and paint on a sidewalk.
Image
Funny Face Book 
Making this Funny Face Book allows your creative kids to work on art expression along with a few facial expressions. 
What You Need:   
3-ring binder 
Cardstock or construction paper
Hole punch 
Markers or crayons 
Stickers and googly eyes (optional) 
What You'll Do: 
Cut your cardstock into three equal strips and use a hole punch to make one hole in each strip.  
Place the strips inside the binder so that each ring has equal pieces of cardstock.    
Let kids choose how to draw different facial expressions to show different emotions. If you have googly eyes or stickers, kids can add those to their pages. 
When all the faces are done, mix and match each page to make hilarious funny faces and ask your kids to make up stories for each face.  
Image
Sock Puppets 
If you've been wondering what to do with your socks that have lost their matches, let your kids transform them into puppets that encourage self-expression as they create their own stories and imaginary adventures.  
What You'll Need:  
Socks 
Googly eyes 
Markers 
Buttons 
Pieces of string or yarn 
Glue 
What You'll Do: 
Gather the socks, craft supplies and glue and let your kids make the puppets.
Create faces with the supplies, using the glue to secure the googly eyes and yarn. 
Extend the Fun:  
Once the puppets are ready, ask your kids to put on a puppet show, act out their favorite book or sing along to their favorite songs.
Image
Homemade Dough Creations 
What You'll Need: 
1 1/2 cups flour 
1/2 cup salt 
1 to 1 1/2 cups of boiling water 
2 tablespoons cream of tartar 
2 tablespoons of olive oil or vegetable oil 
Food coloring 
What You'll Do: 
Boil the water.   
Mix together the flour, salt, cream of tartar and olive oil in a bowl.  
Slowly add in the water and mix until you have a dough consistency.  
Divide the dough into different bowls and add a few drops of food coloring into each pile of dough.  
Start mixing with a spoon and knead with your hands to mix the colors thoroughly.  
Let kids mix the colors and use different kitchen utensils like spoons and forks to make different shapes in the dough, or let them build a tiny dough town for their toys.  
Store the dough in airtight containers so when kids are feeling creative, they can bring the dough back out again and again.
Image
Jewelry Making
What You'll Need: 
Pipe cleaners (or string for older kids) 
Beads 
Buttons 
Pom-poms 
Construction paper 
Pieces of cereal and pieces of candy (optional) 
What You'll Do:  
Twist the pipe cleaners around beads or pom-poms to make bracelet shaped jewelry. 
Pull the string through buttons and pieces of construction paper to create unique jewelry shapes.