Arts & Crafts
7 Valentine's Day Crafts for Kids
By: Highlights Editorial
Let's have a DIY Valentine's Day this year! Make your child's heart happy with these Valentine's Day ideas for kids! 
Give kids the opportunity to make a heartfelt greeting card for someone special, or just have fun exercising their creativity, with this huge card-making kit.
Simple enough for kids to make on their own, or fun to make with a parent, these 7 crafts use basic supplies, likely found at home. In a hurry? For an extra timesaver, check out these easy—and adorable!—Valentine's Day cards.
Image
White construction paper and a white crayon are all you need to send a secret message to someone on Valentine's Day.
Image
Talk about flying into someone's heart!
Image
Baking and sharing cookies with your child is a fun way to spend time together—and bring joy to others. Make it easy with our Kindness Baking Kit, which we created with our friends at Baketivity.
Image
Bring on the smiles with this sweet and silly craft!
Image
Watch these colorful hearts twist and spin.
Image
Spread kindness and warm someone's heart with these slot cards that can be customized with a personal message.
Image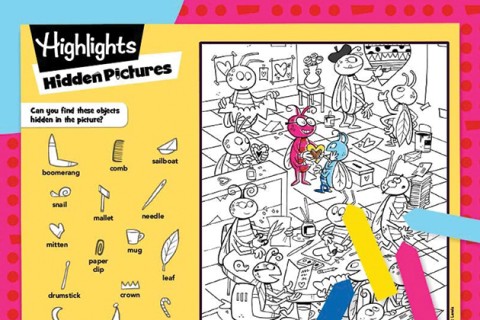 Seek, find, solve and color your way through this holiday-themed Hidden Pictures puzzle. A great Valentine's Day game for kids that stimulates the mind!
Click here to find read-aloud stories and poems, simple recipes, festive puzzles and easy-to-make crafts that will help your family create lasting traditions for Valentine's Day.