Social & Emotional Development
8 Space Crafts and Gifts to Nurture Your Child's Love of Space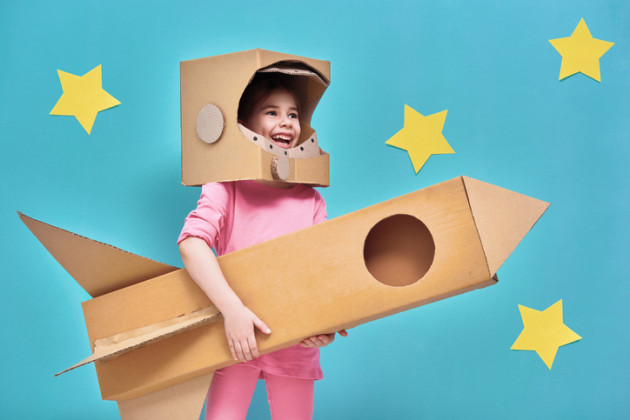 3 minutes to read
For All Ages
It's probably not an overstatement to say that kids (and grown-ups) have been infatuated with space since the beginning of time. And, lucky for the current generation, today's options for engaging in planetary playtime extend well beyond telescopes and Space Invaders.
Check out this list of fun space crafts and ideas for nurturing your child's passion for space. With everything from themed gear to games of make-believe to crafts you can do together, it'll help you indulge their interests — and encourage your space lovers to shoot for the stars.
1. Moon Map Tee - Aspiring astronomers can study this map day or night, thanks to the special glow-in-the-dark ink. The vintage-inspired distressed graphic helps your kid look as cool as they'll feel when they travel to the moon for real one day.
2. Space Water Bottle - Kids can carry their love of science right in their hands with this double-walled, vacuum-insulated, space-themed steel water bottle. It keeps 20 ounces of liquid cold (or hot) for 6 hours, and has a leak-proof, flip-up straw to encourage hydration. Small sips lead to giant leaps for kid-kind! 
3. DIY Spaceship Bookmark Craft - Little and big kids alike will love making their very own spaceship-shaped bookmark. The sky's the limit on the creative possibilities for this activity – make a rocket ship, a UFO, or a friendly space creature to help save your place at storytime. This craft exercises small-motor skills, sparks cosmic conversations, and encourages kids to blast off into reading.

4. Light-Up Solar System Kit - This 100-piece, self-contained kit gives kids everything they need to build their own light-up solar system, complete with aliens, spaceships, and more. It includes pong balls, tea lights, 3-D stickers, glow-in-the-dark paint, and more to encourage screen-free independent play or family-time fun.
5. Solar System Glow-in-the-Dark Hoodie - True space buffs will appreciate that the planets in this glow-in-the-dark, ombre graphic are drawn to scale. They'll also love the fact that this hoodie is waaaaay softer than anything else they're likely to find in space. 
6. Imaginary Play - Sometimes you can create the most magical moments with simple materials you already have at home. A backyard hiding spot, a blanket fort, or even an empty cardboard box can become a rocket ship or a far-off planet – all made better when the playtime is shared with you. (P.S. Here's a list of more Things to Do With a Cardboard Box.)
7. Space Puzzle Book Set - The fun facts, jokes, and Hidden Pictures puzzles in this 2-book set will keep kids engaged for light years – and they're compact enough to take along on trips or errands. Even better, Highlights' special blend of fun and learning helps build brain power through play. 
8. Learn About Constellations (and Create Your Own!) - Astronomers today recognize 88 different constellations, but the practice of astronomy goes back thousands of years. Study the star groups with your child to spark a stronger interest in science, and then let creativity take over as you make your own constellation with this easy-to-follow craft. (Excerpted from The Highlights Book of How, the award-winning 352-page book of experiments, activities, and answers to all kinds of questions from inquisitive kids.)