Arts & Crafts
Screen Free(ish) Sunday: 5 Activities to Do With Your Kids This Spring
By: Amanda Mushro
It's time to welcome back spring and its flowers, warmer weather and sunshine. It's also the perfect opportunity to find new spring activities that will get you and your kids outside and off those screens! Let's celebrate the spring season with engaging and fun activities that are easy to put together using items you already have at home.
Here are five spring-inspired activities that will have you and your kids outside enjoying the spring season.
Image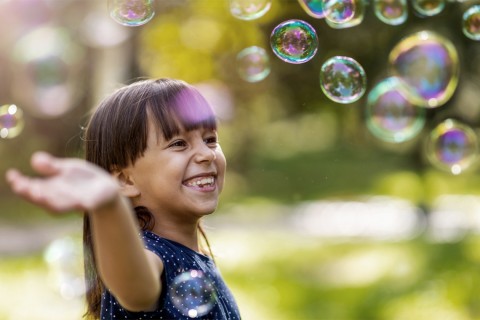 Bouncing Bubbles
Spring is the perfect time to break out the bubbles, but give the regular bubble solution an upgrade and make extra-special bubbles that kids can hold, bounce and balance in their hands.
What You'll Need: 
4 tablespoons of water
2 tablespoons of sugar
1 tablespoon of dish soap
What You'll Do:
Head outside with a bubble wand and a winter glove. Blow a few bubbles and watch how they bounce on the glove instead of popping.
To make even bigger bubbles, cut off the bottom of a water bottle and dip the cut side into the bubble solution. Have kids blow into the spout to make super-sized bouncing bubbles.
Image
Solar S'mores
Looking for a spring activity for preschoolers that doubles as a tasty treat? Let's get outside and put the sun to work to make Solar S'mores!
What You'll Need:
Pizza box
Aluminum foil
Plastic wrap
S'more ingredients
Graham crackers
Marshmallows
Chocolate bar
What You'll Do:
Start by lining the inside of the pizza box with foil. Be sure to line the top and the bottom. Next, build your s'mores inside the box but leave off the top graham cracker. Tent the box with plastic wrap and place it in a sunny spot with the box opened.
The sun will melt the chocolate and soften the marshmallows. If it's a sunny day, your s'mores will be ready in a few minutes. This even works on a cloudy day — it might just take a little longer.
This is a great activity to start when you first head outside with your kids, and when they're ready for a break, their delicious treat is ready to eat. Just add the top graham cracker and enjoy.
Image
Treasure Hunt Egg Box
Turn a walk outside into a treasure hunt. 
What You'll Need:
An empty egg carton 
What You'll Do:
Start by creating a sign out of construction paper for the top of your egg carton. On the inside, use a crayon or marker to color the bottom of each egg cup.
When it's time for the treasure hunt, tell kids to find small items that match each of the colors. When they find a purple flower, they put it in the purple cup. A small black rock goes into the black cup.
At the end of the walk, kids can turn their treasures into a collage by gluing the items to paper, or they can start over and refill their treasure box again and again.
Image
Fizzy Chalk
One of the best spring activities for toddlers is letting them get creative with sidewalk chalk, but with a few extra ingredients from your pantry, you can create fizzy chalk. 
What You'll Need:
2 cups cornstarch
2 cups of baking soda
1 cup of water
Food coloring
Vinegar
What You'll Do:
Start by mixing the corn starch and the baking soda together in a large bowl. Add the water and stir until smooth. If the mixture seems too thick, add more water. Put equal parts of the mixture into pre-bought squeeze bottles, muffin tins, plastic cups or any discarded squeeze bottle you have in your recycling bin. Add a few drops of food coloring or washable paint into each container. Put the vinegar into a spray or squirt bottle. 
Take your kids outside and let them paint with the mixture. When they're done creating their masterpiece, have them squirt vinegar onto their drawings to make it fizz and bubble.
Fizzy chalk also can be a fun learning activity. Talk about what happens when mixing colors — red and blue make purple, for instance. Practice making shapes like squares and circles, or using a squirt bottle to write letters.
When you're all done with this activity, a little water will remove their artwork.
Image
Bucket Ball
This game feels like your own DIY carnival game, and you're bound to love it just as much as your kids. 
What You'll Need:
Ball pit balls (or something similar)
2 cardboard boxes
3 various sized buckets or baskets (small, medium, large)
Markers
Scissors
Tape
Paper
What You'll Do:
Start by making the base of the ramp from the largest box. Make two cuts down one side of the box so that one side lays flat. Don't cut the entire side off. Next turn the second cardboard box into a ramp by cutting out the bottom and the top off the box. Then cut down one side to open up the box. Now you'll have one long piece that will be placed inside the first box with one side of the ramp touching the ground and the other side leaning on the top of the first box.
Next, grab the small, medium and large buckets and use the paper to create a label for each. Keep it simple by using 1, 2 and 3. Use the tape to attach the labels to the buckets, and take everything outside.
Line everything up, starting with the ramp and then the buckets in number order. Have your kids stand in front of the ramp and roll the balls up the ramp and into one of the buckets. It helps to have an extra bucket or box to hold the balls.
Instead of keeping score, see if you can work cooperatively to get 10 balls into the buckets. Give each other a high-five and play another round of bucket ball.